Knowing how to pack for any trip can be difficult, but there are a number of travel packing tips and tricks that can help you pack like a pro no matter where you're going.
The packing process never really changes, so once you know all the tips in this ultimate packing guide, you can confidently pack for any trip.
The only thing that changes is the types of clothing you bring based on your destination's weather and how much you pack depending on how long your trip is.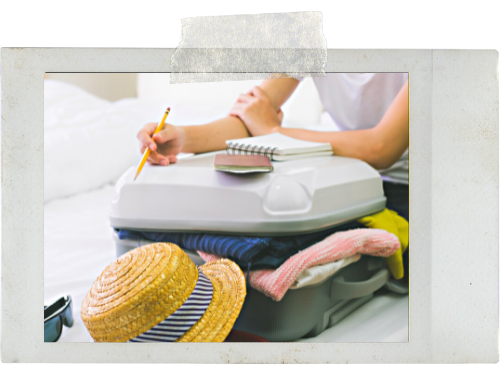 1. Start with a List
The best way to make sure you pack everything you need and avoid packing what you don't need is by having a list. List makers rejoice! Others may not like making lists as much, but it does help you organize, and it's less work trying to remember things. You already have a lot to think about!
Based on the number of days you're gone, you should figure out exactly how much clothing you need, what toiletries need to come with you, and what electronics to pack.
Write it out and check items off your list as they go into your bag.
You can create a master travel packing list that you use for every trip. You'll need to make slight modifications based on the duration of your trip and the weather, but your master list will at least have all the essentials that you can't leave without.
2. Maximize Space by Rolling Your Clothes
Space is always an issue when packing, and the best way to maximize the space in your luggage is by rolling your clothes.
Rolling clothes has long been a packing hack amongst frequent travelers. You can easily pack three or four more shirts when rolling your clothes than folding them.
In addition to saving you space, rolling your clothes allows you to more easily see what you have packed and can lead to your clothes having fewer wrinkles in them.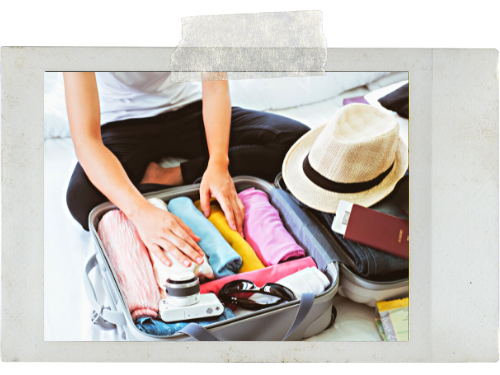 3. Packing Cubes Keep Your Organized
Packing cubes are the best way to keep your luggage organized. You can roll your clothes and put them in packing cubes and then put the packing cube inside your luggage. Bonus if you get compression packing cubes that can further reduce space in your suitcase.
You can choose to pack all your shirts in one packing cube and all your pants in another or pack outfits together in a packing cube. Either way, packing cubes are an inexpensive investment that makes packing less stressful.
4. Pack Your Outfits in the Order You're Going to Wear Them
This is a simple packing tip that can save you time and frustration in the long run.
If you've already planned your outfits before you pack, pack your outfits in the order you're going to wear them.
Put outfits that you plan on wearing near the end of your trip at the bottom of your suitcase and the outfits you're wearing first on top.
This will save you from having to dig around in your luggage to find an outfit or part of an outfit. Your clothes are already organized, and you can easily pull them out of your suitcase without any hassle.
If you are going to a conservative country, research the clothing norms to ensure you are comfortable and respectful. Many temples and religious sites require covering your shoulders and knees, as well as taking your shoes off when entering, so pack appropriate clothes and slip-on shoes to make it easy.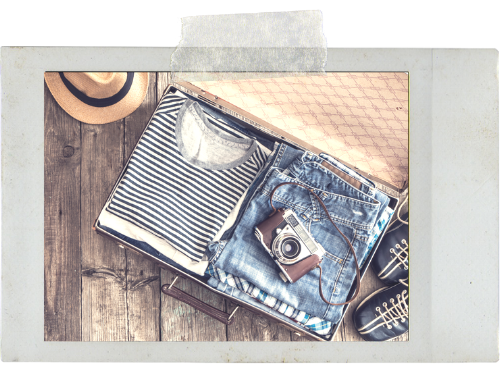 5. Leave Unnecessary Items at Home
It is tempting to pack everything and everything when you go on a trip. You never know what you'll need or exactly what the weather will be like. There are just some items you don't need to pack if you think through your itinerary.
You don't need to pack multiple pairs of shoes or two outfits per day if you know you're going to wear one pair of shoes the entire trip and have never changed outfits midday before. You may not even have the opportunity to go back to your accommodations to change based on what you are planning to do. Rethink wedges or heels, since you'll be on your feet most of the day exploring and maybe be walking to dinner as well.
Leave your expensive and sentimental jewelry behind. It makes you more of a target to robbers and in case it gets lost when repacking to leave to your next destination or home. If you want to wear jewelry on your trip, stick to costume jewelry.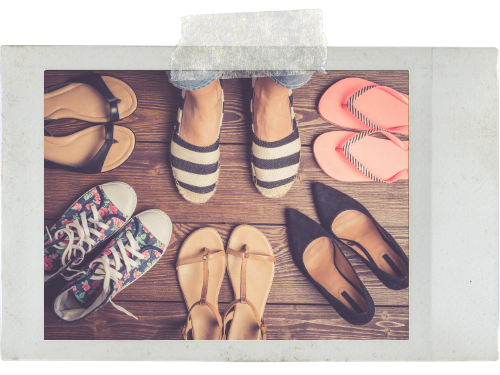 6. Bring a Laundry Bag
You don't want your used, smelly clothes in the same area as your unworn, fresh clothing. Bringing a mesh laundry bag is the best way to keep your used and unused clothes separated.
Once you are home, you can take the entire laundry bag and put it in the washer. It is an easy travel packing hack that is often overlooked because people are more concerned about packing to go on their trip and don't think about packing when they're leaving to come home.
7. Leave Space in Your Luggage for Souvenirs
Chances are you're going to buy a few souvenirs on your trip. You don't want your suitcase to be so full at the start of your trip that you don't have room for your souvenirs when you come home.
Leave a dedicated space in either your checked luggage or carry-on luggage for souvenirs. Otherwise, you may have to leave something behind because you don't have enough room in your luggage.
8. Pack Your Medication in Your Carry-On Luggage
You need to keep any medication close by and packed in your carry-on luggage or personal item.
It is incredibly difficult to get prescription medication abroad, and you run the risk of losing your prescription medication if you pack it in your checked luggage, and your checked luggage is lost by the airline.
It isn't worth the risk, and you should always keep your prescription medication on you when traveling.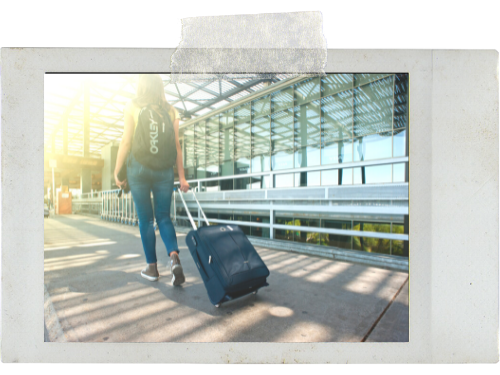 9. Keep Your Pajamas and Toothbrush in Your Carry-On Luggage
You should always pack your pajamas, toothbrush, deodorant, and a change of clothes in your carry-on luggage. If your checked luggage is lost, you need to be able to survive with what is in your carry-on luggage. This may also include contact lens and glasses, phone charger, etc.
10. Know What You Can't Pack in Your Checked Luggage
There are certain things airlines won't let you pack in your checked luggage. Most airlines won't let you check things like lithium batteries that are used in external charges.
You can pack them in your carry-on but not in your checked luggage.
Be sure to check the TSA guide before your trip if you're not sure whether or not something should be packed in your checked luggage or carry-on bag.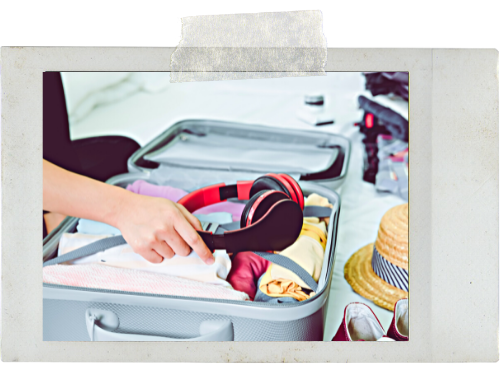 11. Have a Dedicated Spot for Your House and Car Keys
It is so easy for you to forget where you packed your house and car keys when you get home from vacation. You haven't used them in a while, and they were the last thing on your mind when you were relaxing on your trip.
The best way to stop your heart from dropping because you think you lost your keys is by packing them in the same spot every single time you travel.
Pick a spot somewhere safe in your carry-on luggage to store your keys. You should put them in a pouch with a zipper and never put them in your checked luggage.
12. Keep Your ID at Arm's Reach
You need to show your passport or other government-issued ID multiple times when flying. You should pack your ID in a place you can easily reach while on the move, so you can easily show it whenever you need to.
It also needs to be a secure place. Consider putting your ID in you a zipper pocket in your personal item. This way it is always on you and easy to access.
Some carry-on backpacks even have a built-in passport pocket where you can safely store your passport while still having it accessible.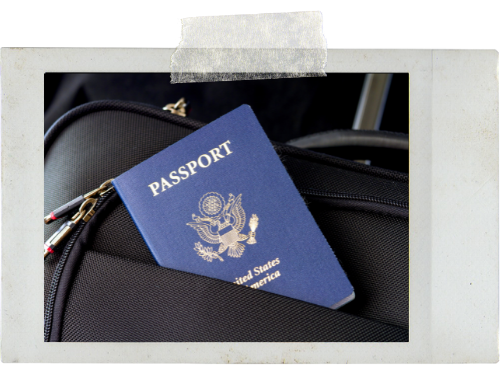 13. Bring a Reusable Water Bottle
Bottled water is always overpriced and single-use plastic bottles are bad for the environment. The easiest solution to both those problems is bringing your own reusable water bottle when you travel.
As long as it is empty, you can bring a reusable water bottle through airport security and fill it up at the airport. Most airports nowadays have water fountains where you can get cold, filtered water.
Once you've arrived at your destination, you can fill your water bottle up every day as many accommodations have filtered water available.
The simple act of bringing a reusable water bottle rather than buying water can save you a ton of money, so you can buy more souvenirs!
14. Pack Heavy Items at the Bottom of Your Suitcase
This packing tip is all about gravity. You want to put your heaviest items at the bottom of your suitcase near the wheels.
If you put the heavy items at the top, they will push the lighter items down and could potentially ruin some of your items.
The same philosophy goes for packing your carry-on bag or backpack. Putting the heaviest items at the bottom of your backpack makes it easier to carry and helps reduce any back pain that would occur if you put the heavy items at the top of your backpack.
15. Know the Airline's Luggage Weight Limit
Speaking of heavy items, be sure you know the luggage weight limit on whatever airline you're flying. In North America, the average weight limit is 50lbs, but it varies from airline to airline and country to country.
Knowing the airline's weight limit helps you figure out what you can and can't pack. You're hit with heavy fees if your luggage is too heavy, and you want to avoid them at all costs.
This is more of an issue when you're returning home from a trip, and your bag is full of souvenirs. And, somehow your clothes get more "fluffy" when you try to re-pack!
If you're on your way home and aren't sure if your bag is too heavy or not, most airports have a scale in the main hall. Find it and weigh your bag before you check into your flight or bring a mini luggage scale to do it before you leave so there are no surprises!
You can easily rearrange your checked and carry-on luggage to better distribute the weight to make sure your checked bag isn't over the weight limit.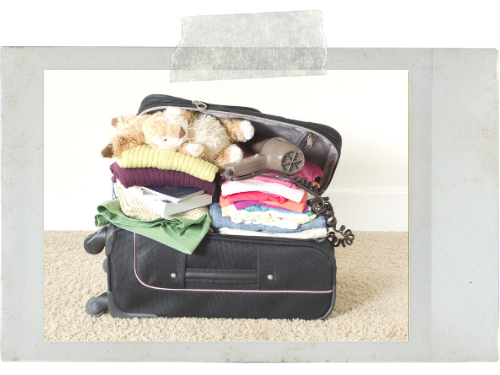 16. Put the Items You Need to Remove at Security at the Top of Your Carry-On Bag
Nobody likes to be stuck behind the disorganized person at security who takes ages removing their liquids and electronics from their bag.
Getting through airport security is a breeze when you know how to pack for it.
Any liquids in your carry-on bag should be at the very top of your bag, and all your electronics should be accessible.
You should be able to grab everything out of your carry-on bag in seconds while walking if you pack properly.
17. Wear Your Heaviest and Bulkiest Clothes on the Plane
If you're strapped for room or are nearing your checked luggage weight limit, wearing your heaviest and bulkiest clothing items on the plane can be a game-changer.
You can layer a couple sweaters and a jacket over top of a t-shirt and then take the bulky, uncomfortable layers off when you get on the plane and store them in the overhead bin. You can also wear boots or other bulky shoes to clear more suitcase space.
This is a great packing tip for your flight home when you're trying to pack all your souvenirs into your bag on top of all the items you brought on vacation with you.
18. Mark Your Checked Luggage, so You Can Easily Recognize it
Having a plain black suitcase increases the chances that someone else will accidentally grab your suitcase from the luggage carousel and leave with it.
You want to add a distinctive mark to your luggage, so you can easily recognize it amongst the hundreds of other very similar bags.
Consider putting a piece of fabric around the middle of your bag, adding a ribbon to the handle, or sewing a bright patch of fabric to the outside pocket of your suitcase.
Oftentimes a luggage tag isn't enough in a sea of black rollie bags, and you need to do something more extreme to make your luggage stand out.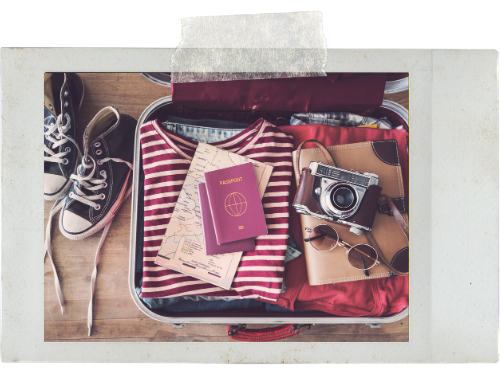 19. Pack a Wet Bag for Swimwear
If you are bringing a swimsuit, bring a wet bag for when you want to change into dry clothes and are not at your accommodations. 
This could be going from pool to spa for a treatment, or a beach day going directly to dinner, or sitting on a bus to get back to your hotel from a water adventure!
20. Bring a Large Light-Weight Scarf
A large scarf or sarong is so handy and versatile for any trip. It can be used as a:
Neck warmer
A gaiter when it's dusty and windy to cover your nose and mouth
A hobo bag by tying all four points together
Head wrap to protect if you have to wear a helmet, or the sun is beating down on your neck
A sarong, when you need to cover your knees at temples
A shawl to cover your shoulders from air condition blasting, or intense sun
A bolero jacket by tying two corners together on each side and putting your arms through the holes
A headband to keep your hair back off your face
21. Have a Pre-Packed Travel Toiletry Kit
Even if you aren't a road warrior, it is convenient to have a travel toiletry bag always stocked up and ready to go. It saves time where you don't have to round up a bunch of small items when you have a lot of other packing to do!
You probably won't use the travel-size toiletries at home, since you have the full size as part of your daily routine. When returning from a trip, restock asap so you don't have to remember for your next trip. If you can, buy solid toiletries like shampoo bars, toothpaste tabs, sunscreen sticks, bug balm, etc. to save from unexpected spills and TSA scrutiny.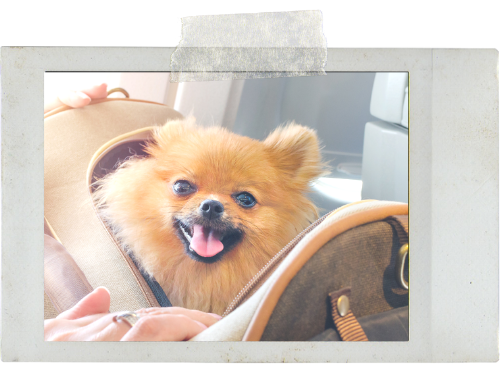 Important Items Not to Forget
It is super easy to forget certain items when packing for your trip. They aren't the first items to come to mind when making your list, but you'll miss them while you're on vacation.
Here are a few items that most people forget to pack but wish they had with them:
Umbrella
Extra sunscreen
Tweezers
Nail clippers
Sunglasses
Hooded Windbreaker (compact, packable)
Reusable cutlery (for street food, picnics, or take away)
Pen (to fill out any custom forms)
Band-Aids
Converter (if traveling internationally)
Lip balm with SPF
Reusable Water Bottle
Extra memory card for your camera
Adventure Awaits!
Packing is a necessary part of travel, and it can be made easier with a list and the tips above!
After a little practice, packing becomes second nature, and you can properly pack your suitcase without forgetting something after a handful of trips.
Hopefully, you and your luggage end up on the same trip! But it won't phase you if your luggage gets temporarily separated from you (saying it's "lost" seems like there's no hope!) because you have your carry-on packed as planned with the essentials needed to begin your adventure.
Bon Voyage!