Travel makes you smarter, healthier and even boosts your creativity1. Boom! There it is!
While the pandemic has restricted travel, there are still ways you can travel and get the benefits of breaking your normal day-to-day. I've been exploring my hometown like a tourist and discovering (or re-discovering) interesting places right under my nose! There are so many places to visit within a few hours radius of where I live. Each of these can easily be a day or a weekend trip. It reminds me that others see my town and surrounding areas as a destination they'd like to visit.
As the world adapts and travel opens up, you might be wondering, how do I plan a vacation? It can be overwhelming, especially if you've never traveled before – your mind is probably going crazy with thoughts.
I've traveled to over 44 countries and wanted to share some insight into planning your adventure. It doesn't matter if you're an experienced world traveler, or you've never owned a passport! Travel will enrich your life, and here's how to plan an amazing trip!
✈️ Choose your destination
Ok, let's have some fun! A great place to start is what is on your bucket list if you have one. If you need inspo, you can take a peek at my bucket list. You can also search for Top 10 lists, UNESCO list, Wonders of the World list, etc. for more ideas.
Some other questions to help figure out your destination are:
What is your dream destination?
What do I want to do when I travel? Hike, beach time, spa?
How active do I want to be?
And what level of comfort do I require?
How far do I want to travel? Stay local or go abroad?
Once you've decided on your travel destination, you can start working on logistics and details. If you can't choose only one destination, narrow your list to a few destinations. Then, use the next steps to continue to refine your list until you have just one for this trip.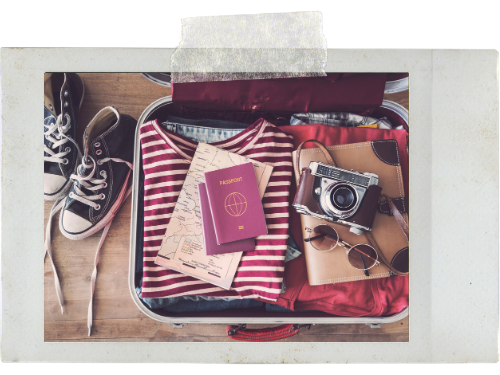 ✈️ Passports and Visas
Now that you know where you're going, check that your current Passport is still valid for 6 months after the date you plan to leave on your trip. If you need to renew or request a new Passport, give plenty of time (3 months or so), so you're not stressed if the queue is backed up. You can pay to expedite, but why incur an additional cost if you don't have to? It's the same amount of effort to do it early.
Also, look up visa requirements. Some places issue you visas upon arrival, and some you have to do in advance or register. Also, any other entry requirements should be taken into account, specifically with COVID.
✈️ Determine the length of your trip
If you're from the US, you may be a bit challenged with the number of vacay days you get each year. But let's face it, any time off is GREAT! You can extend your travel by choosing dates that include paid holidays. This way, you're not using PTO/vacation days for that specific date and get it for free.
Take a look at the list of what you want to do at the destination. Ensure that you have enough time to hit all the ones at the top of your list. For things like scuba diving or high elevation areas, you may need to factor in a day or two for your body to adjust. Along the same lines, the weather may affect your activity. When I was in New Zealand at Fox Glacier for a helicopter hike, it was advised to allow flexibility for 2 days in case weather conditions were not safe to go on one of the days. Because I traveled so far, I didn't want to miss out due to a lack of planning! I was able to go on the first day, and the second day had terrible weather and everything was canceled.
The excitement to explore and with limited time off, make us want to pack our schedules during travel. Remember to build in some downtime to relax to just people watch, wander with no plan, or go back to a place you really enjoyed.
The length of your trip is important not only to make sure it works for your schedule but it's tied to your budget that determines many of the logistics and activities you'll enjoy during your trip.
✈️ When to travel
The best time to travel is as soon as you can! Many put off travel and don't use their vacation days because there is never a good time. Travel helps you relax, refresh and reset – it makes you better when you come back to work and your life.
I like to travel during "shoulder" months, where it is less busy and less expensive than peak months at the destination. For example, to avoid June to August summer crowds and high costs, I target travel during April/May and September/October. Apply this to any destination and their peak times for a more relaxed experience.
You should also consider special events that are seasonal and/or on specific dates that you want to factor into your trip. There are iconic experiences, like Octoberfest in Germany or running of the bulls in Spain that you may need to plan around.
✈️ Calculate your travel costs
Some destinations are more expensive overall than others, so you'll need to have a budget in mind. Countries like Canada, the US, the UK, Australia, France, Germany, Japan, and Italy are generally more expensive, while southern Asian counties and Eastern Europe tend to be more affordable. Regardless, you will experience incredible cultures, food, and sights to behold (and post to social!).
When you've decided where you want to go and the length of your trip, you can calculate your costs by doing some research on the two costs that make up the majority of your budget: flights and accommodations.
I use Google Flights to start and use the "date grid" to see the flight fare based on the date. If you have flexible dates, this is great so you can choose the least expensive option. For accommodations, in addition to hotels, there are many great vacation rental and homestay options, like Airbnb or VRBO.
You can build up points to redeem for free upgrades, flights, and stays by staying loyal to one company. Points programs are free, so open as many as needed as you book travel. Over time, you may find you book multiple times with a particular company. You can then start focusing on building status with them. There are a lot of travel hacking tips available online that show you how to earn and maximize points.
More on both booking flights and accommodates later in this post. Now, you should have an estimate of your travel costs to know if it will fit your budget.
✈️ Decide if you're traveling with friends, family or solo
Solo travel is one of the most incredible things for your mind and personal development.
66%2 of solo travelers explore alone because they want to see the globe without waiting for someone, and 56% of solo travelers love the freedom from solo travel. Moreover, a further 54% of travelers travel alone to leave their comfort zone.
Since more and more travelers are going solo, many in the travel industry are making it easier and more affordable to do so.
Whether you travel alone or you're planning with your squad – you'll have an excellent experience, but you just need to decide.
Major Pros for Solo: Do what you want, when you want! Personal growth – confidence in yourself on your own; You are more likely to meet new people alone when you are pushed to do so.
Major Pros for Group: Sharing the experience and bonding with friends; Potential to split the cost of accommodations and activities; Shared responsibilities in planning and navigating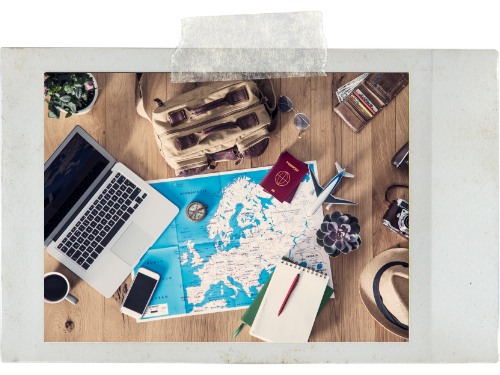 ✈️ Book flight and accommodations
Most people think travel is expensive, and for sure, it can be costly. But it's entirely possible to plan and find incredible deals. Here are some sites for finding flight deals:
Skyscanner is a platform for finding great deals. If you're new to travel, it's the most straightforward place to get started!
Secret Flying is a place to find budget travel news leaving from Europe
Scott's Cheap Flights is a good option for finding US-based travel deals. They will email you deals based on your preferred airports.
Try to book at least 14 days in advance to get a better fare. I start looking about 3 months in advance and use Google Flights' price tracker that gives you an idea if the current price is high, low, or about average. There are other apps that do this as well, so set notifications to be alerted when the price drops!
I like booking directly with the airline or hotel, rather than a travel aggregator or shopping engine, like Expedia because they are often not straightforward. As learned during the pandemic, changes are a lot easier direct. When you contact the airline or hotel, they will tell you that their hands are tied in helping you if the booking is through a travel aggregator.
Also, the fine print of these travel aggregators can be confusing, and many have run into unexpected issues with a simple booking.
Here are some more tips:
Don't ignore hidden costs – Read carefully what is included in the price of the ticket. Some may charge extra for carry on's and choosing your seat! These all add up fast, so be aware of the final cost of the ticket that includes these extra charges.
Book at the right time – I hear the best time to search for flights is Tuesday evening because airlines announce deals Tuesday afternoons. Also, it seems that the cheapest day to fly is on a Tuesday, Wednesday and Saturday due to lower demand so if you have flexibility, check different days of the week to find the best option. Same thing applies to flight times – early morning and red eye flights have less demand so are better deals.
✈️ Travel Insurance
Determine if you want travel insurance. This is a tough one for many since insurance is exactly that – you pay and hope to not have to use it! But, when you don't use it (lucky!) it feels like you didn't need to pay for it.
My priority would be covering health, so this means having travel insurance specific to helping you evacuate in case of disaster or medical need, as well as getting the care you need. Your current insurance may have limited coverage abroad so make sure you know what it covers! Also, if buying additional coverage, know the COVID policy – because it is a "known" risk, coverage may vary. I would be concerned with it helping with expenses if you have to unexpectedly quarantine and the accommodations are not covered by the country you are in – this is potentially a big expense.
Other travel insurance coverage of your trip (cost of flight, accommodations, and activities) can be weighed against the total cost that you would lose if you're unable to travel. Again, check exactly what it covers for scenarios you're concerned with. Also, check the policies of your credit card used to pay and the of the companies themselves, as policies have evolved during the pandemic.
✈️ Foreign Currency
If you're traveling internationally, you'll need foreign currency. Some nations – including Cambodia, Panama, and Ecuador – will accept the US dollar. But most others you'll want to have local foreign currency.
No need to convert money before you arrive at your destination, IMHO. Most places take credit cards for purchases in the airport (snacks, etc.) and if you arrange your transport ahead of time or use a ride share service, you don't need cash upon immediate arrival. Once in town, after checking into accommodations and putting your bags down, the first thing I do is go to a bank ATM for local currency at the best exchange rate.
Avoid getting your currency converted at the airport. They have the worst rates and fees! ATMs inside the hotel also have high rates, although not as bad as the airport. Ask the hotel concierge or vacation rental host where the nearest and safest bank ATM is located close to your accommodations. I prefer an ATM inside a bank where you have to swipe your card to enter.
There are a lot of reports of stand-alone ATMs that are fraudulent. Thieves put them out on street and after you insert your card and enter your PIN, it will "malfunction" and not return your card – now they have both your card and PIN. Evil! Make sure any ATM you use is clearly part of a bank. I am even a bit suspicious of ATMs inside convivence stores even though these are probably fine. Trust your gut – if it seems sketchy, then don't risk your money and safety. The extra few minutes to find a legit bank is worth it.
A last note on currency, check your bank fees on withdrawals abroad. More banks are waiving the fees these days (yay!) but many still charge (aww!). Some fees are based on transactions, so instead of many small withdrawals, you may consider taking a little more out each time to reduce the fees. Then lock the cash you're not using in the safe. I don't feel comfortable carrying too much cash when traveling, but lucky my bank waives fees so I take a little at a time. If your bank charges, you should weigh a few extra dollars in fees vs how much cash you feel comfortable having.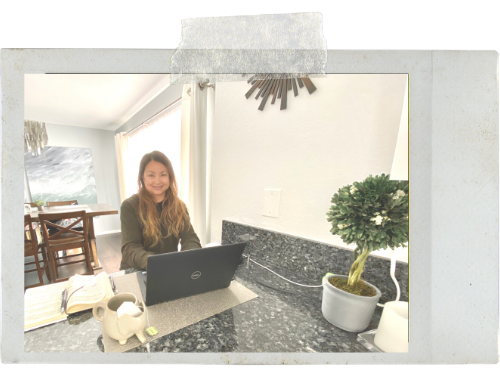 ✈️ Prepare yourself for the local culture and language
Ok, you've done the hard work. Now on to the really fun and exciting part! Time to learn a little bit about the culture and learn a few words of the local language.
I love researching all the good food to try and places to visit. Based on your interests, you may want to read up on the history of the places you'll experience to understand how it came to be and what it ALL means… (while staring out the window in deep contemplation; bonus points if it's raining outside!)
Monuments are great, but more meaningful when you know the background and can relate it to yourself. In many cities, there are free walking tours or you can book a paid half or full-day tour so you know what you're looking at! Why is everyone taking pictures with that statue of a dude on a horse? Should you get a pic too? Well, knowing a bit about it will help you make that decision and connection with the story and/or place!
Learning about new cultures is terrific for personal development, and the second you throw yourself into a foreign culture, you'll learn a lot about yourself!
When you leave the west, the language barrier might concern you. But did you know that over 1.35 billion people can speak English? It may or may not shock you how many people speak English in countries like Japan, Russia, and the Middle East.
That said, remember you are the visitor, so the expectation is that you adapt, not the locals for you! I have met so many friendly and helpful people across the 45+ countries I've visited. Most in the tourism industry know a lot of English, but it goes a long way for yourself, and others, to learn some common greetings and phrases. A "thank you" in the local language and a smile goes a long way in an unfamiliar place.
So, are you going to learn fluent Spanish in a month before you travel? Well, it would be amazing, but may not be realistic. Duolingo is one of several apps for learning the basics of a language, and you can do this in your spare moments – waiting in line, on your way to work, at the gym. Start with a simple Hello, Goodbye, Thank You and go from there to common phrases used when traveling.
When I went to Brazil for a friend's wedding, she prepared note cards for each of us with common Portuguese words and phrases she thought we would need within our group, including:
I've had it up to HERE with you! (hand gestures are advised to show exactly where you've had it up to…)
If lost, please return this person (even if they argue) to: XXX Hotel
Thank you! Yes, I'll have another.
Thank you! Yes, my friend is paying!
✈️ Lets Go!
Ok – so you did it! That wasn't so bad, right? You planned your adventure!
Research has shown that even the act of planning a vacation increases your happiness. Yes! Read that again. I'll wait.
A recent study conducted by the Institute for Applied Positive Research found that 97% of respondents report that having a trip planned makes them happier. Having something to look forward to, like a vacation, helps us get through the day-to-day routine that might not feel so exciting right now. Now you have something great to daydream about in between Zoom calls!
So, don't overthink it too much and request that PTO as soon as you can! Make your dream destination a reality and take a break from the 9-5 job to refresh your body, mind, and soul.
As the famous quote from Sir Richard Branson goes, "screw it, let's do it!"
---
[1] https://journals.sagepub.com/doi/abs/10.1177/0146167210367786