If the Singapore Changi Airport is any indication of what to expect when visiting Singapore, then sweet mother! When you arrive, make time to visit Jewel – a shopping, dining, and attractions.
The rest of Singapore has the same beautiful creative and modern design elements and architecture. But first, more about Jewel.
Jewel Changi Airport
Jewel is connected to Terminal 1 Arrival Hall, and linked by bridges to Terminals 2 and 3. A free airport shuttle bus service goes between Terminal 4 and Terminal 3.
Look at this S@!* (video at left)! This is the Rain Vortex, the tallest indoor water cascade at seven stories high. It's lit up at night and worth a trip just to see it.
Surrounding the Rain Vortex is the Forest Valley with places to walk, sit and view the water cascade from all angles.
Above it is the Canopy where you'll find Canopy Park and Bridge. There's a hedge maze and a mirror maze to keep you busy after shopping the multi-story mall.
If you never get out of the airport, you'll still be amazed at Singapore!
---
Marina Bay
Okay, this is where the action is! Marina Bay has tons to do, including several iconic places you have to see. It's basically Singapore's city center and is packed with interesting things to experience.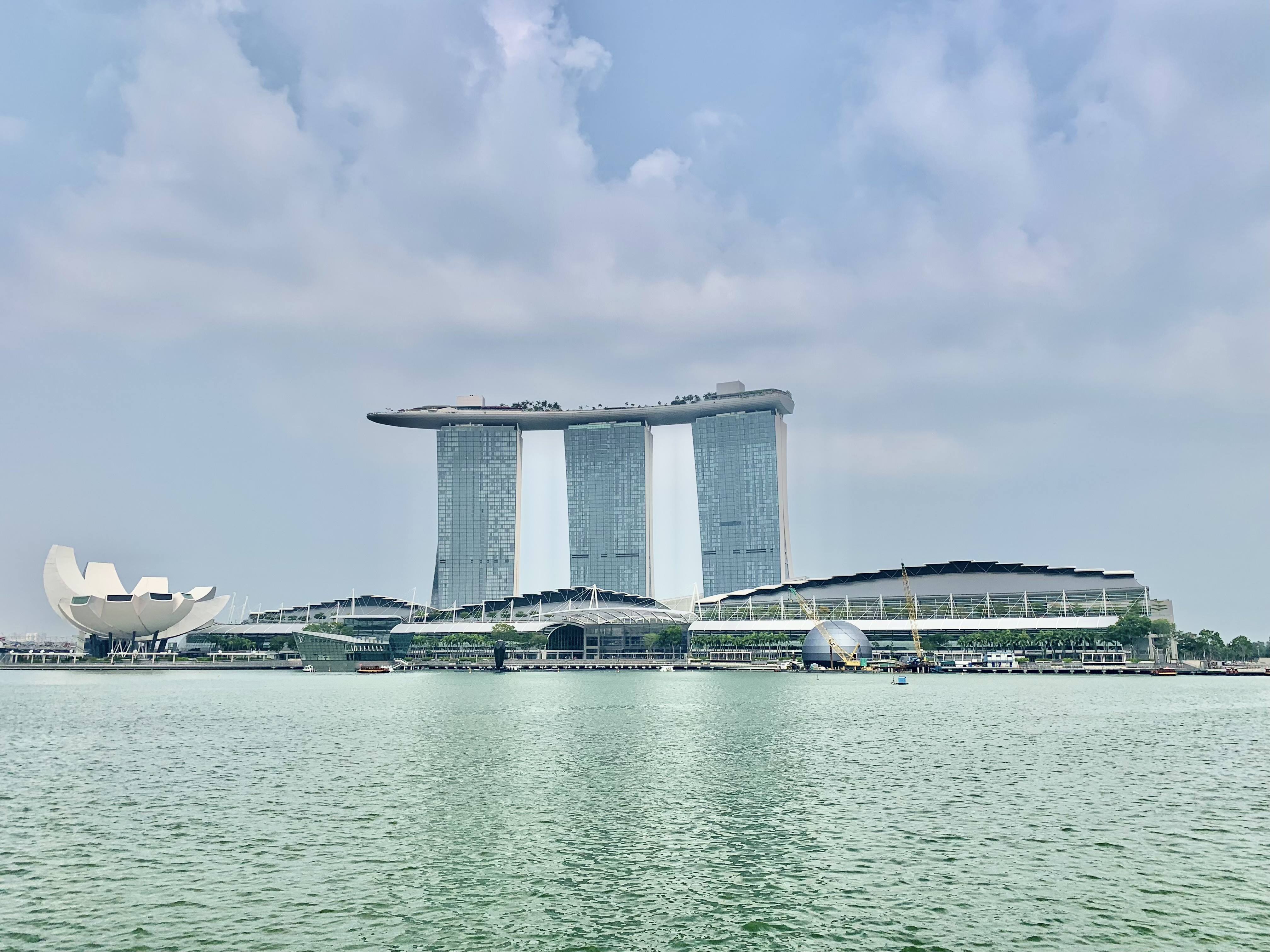 ✈︎ Marina Bay Sands Hotel & Casino Complex and SkyPark – On top of the Marina Bay Sands are crazy panoramic views of Singapore from the SkyPark, Sky@57 restaurant, or the CE LA VI Skybar. The SkyPark has guided tours that help you understand what you are looking at! Note that the pool is for hotel guests only so don't rip off your swim coverup just yet!
Las Vegas Sands owns Marina Bay Sands so no surprise there is a casino inside the hotel. Even if you don't gamble, check out the massive chandelier in the middle of it all, made up of more than 130,000 Swarovski crystals.
Every night you can see the award-winning Spectra light show radiating from the Marina Bay Sands. The free laser light show can be seen from all areas of the bay waterfront.
✈︎ Singapore Grand Prix – I happened to visit Singapore and got tickets to attend my first Grand Prix! The Singapore Grand Prix is the only F1 race held at night and the race circuit is on the streets of Singapore around Marina Bay. Nightly concerts were the main draw for me, tbh – Gwen Stefani and Muse were the headliners.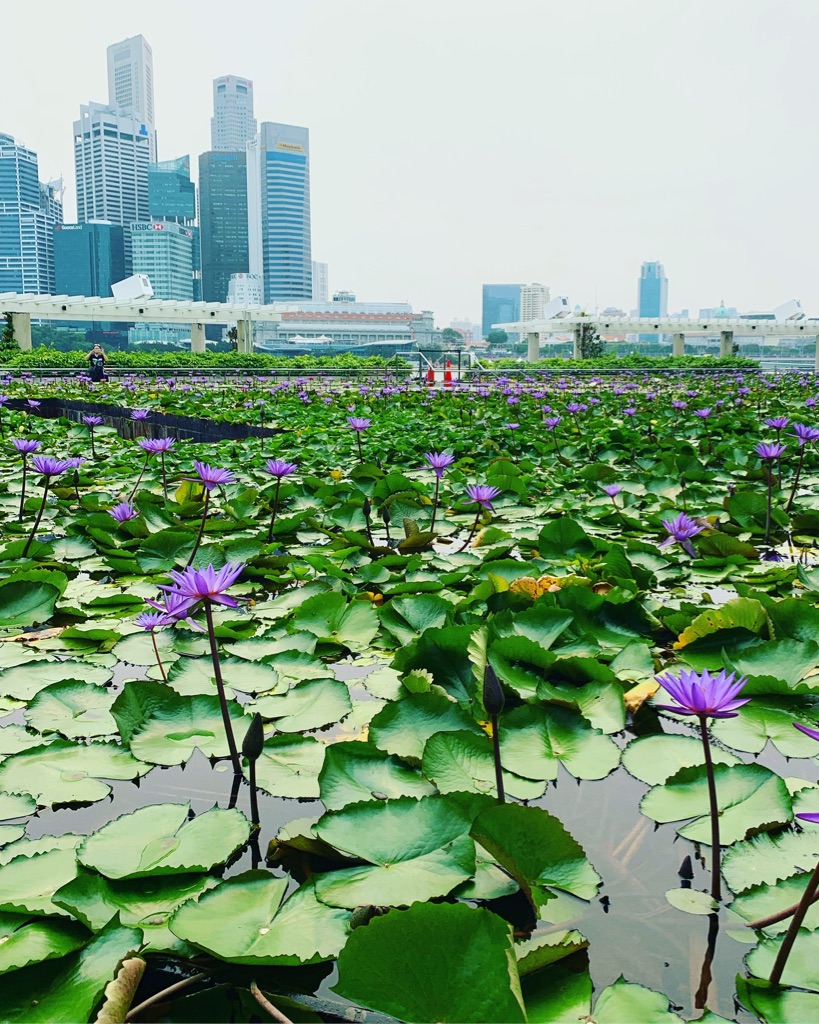 ✈︎ The ArtScience Museum – To the left of the Marina Bay Sands, in the white lotus flower building are exhibits from traditional to modern, and some with interactive features that span 20 gallery spaces. At the time I visited, there was an Alice in Wonderland exhibit where you could join the tea party among other fun things.
Also, it's great for kids (or a big kid, like me) with an underwater digital sea that scans and projects your colored-in drawing of a sea creature.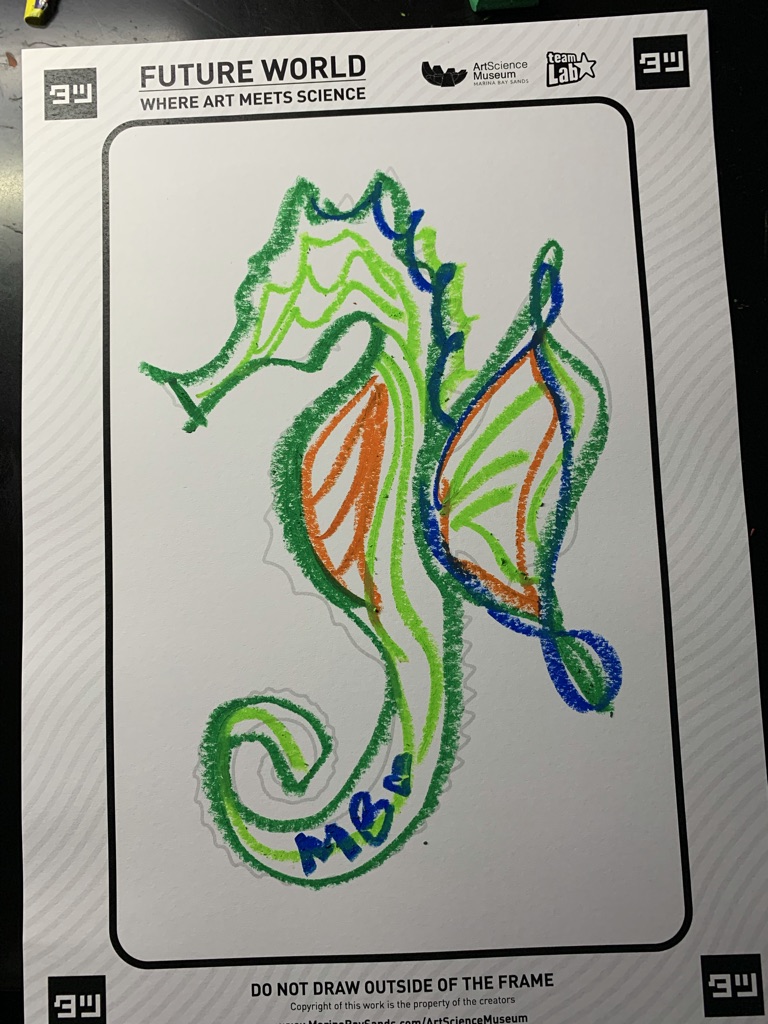 ---
Chinese Gardens
While Singapore has a lot of architectural attractions, there are a lot of natural spaces and parks. The Chinese Garden is on an island in the middle of Jurong Lake. It's an oasis of calm among the busy and energetic city life around it.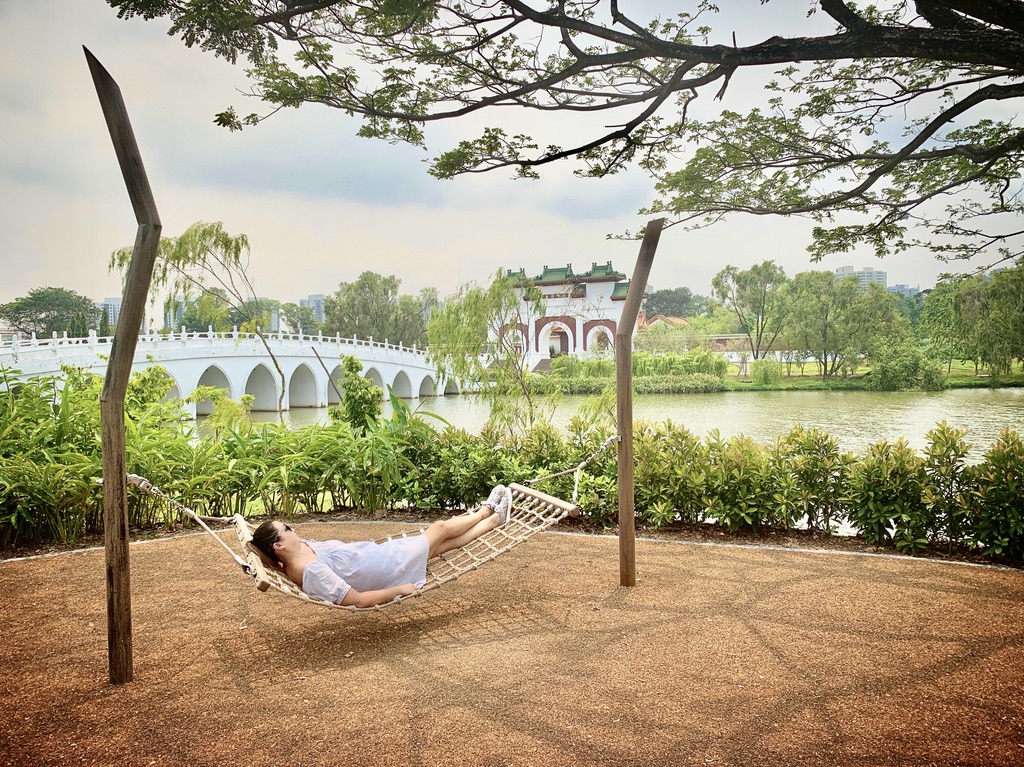 If you like bonsai, then you'll be in heaven in the bonsai garden that has 2,000 pots! Another area to visit is the Herb Garden where you can get a good whiff of culinary and medicinal herbs. The walk around the grounds is peaceful.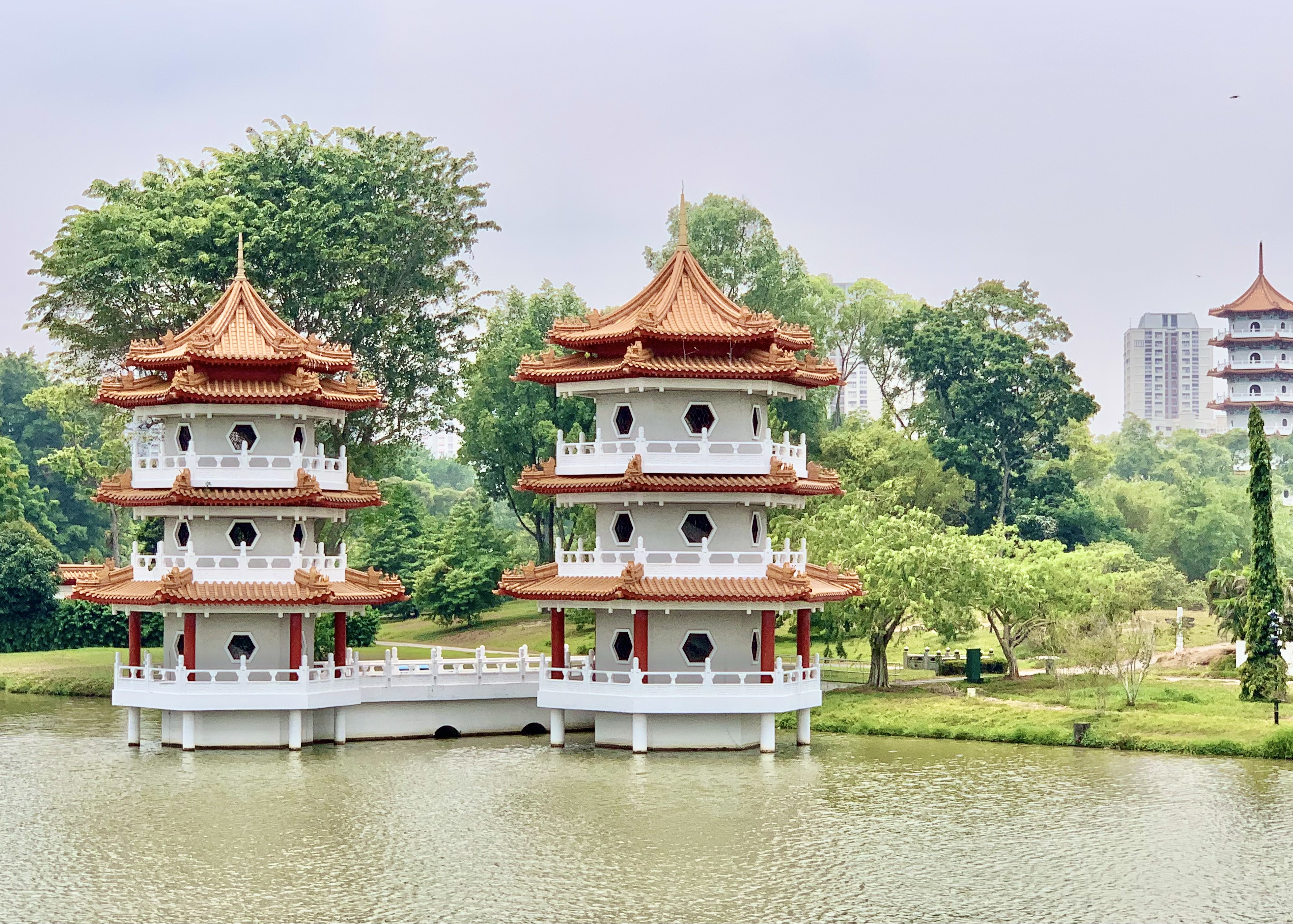 ---
Gardens at the Bay
You can easily spend the entire day exploring the Gardens at the Bay. The highlights are the Cloud Forest & Skyway, Supertree Grove, and the Floral Fantasy. If you have more time visit the Flower Dome and Dragonfly Lake.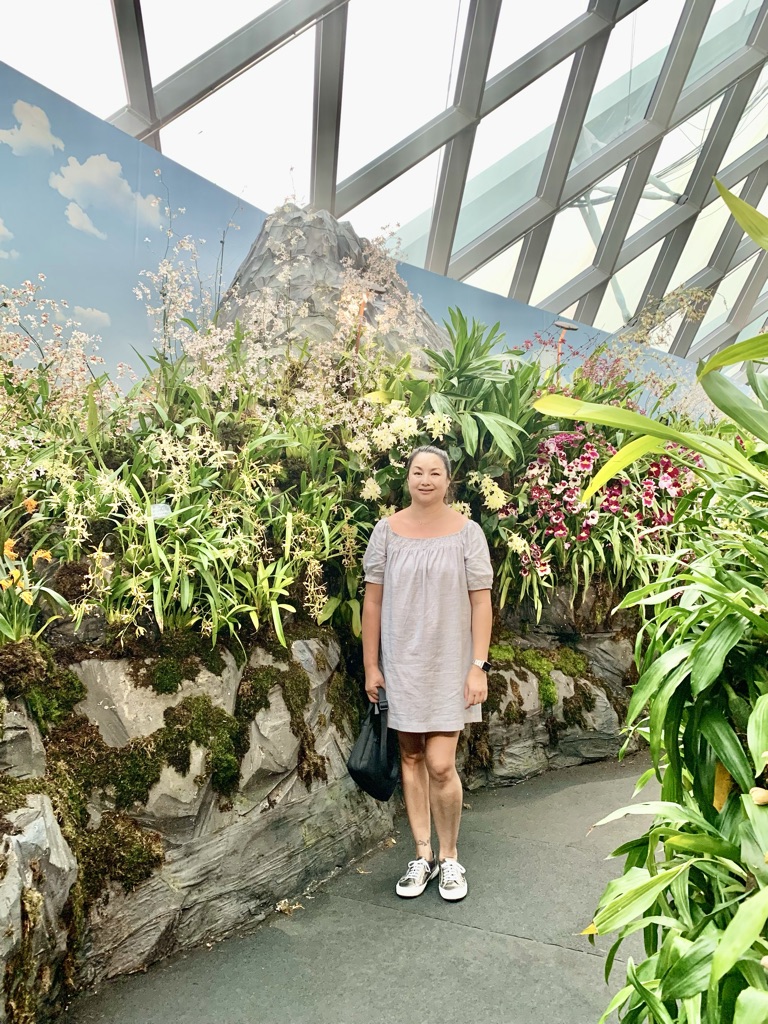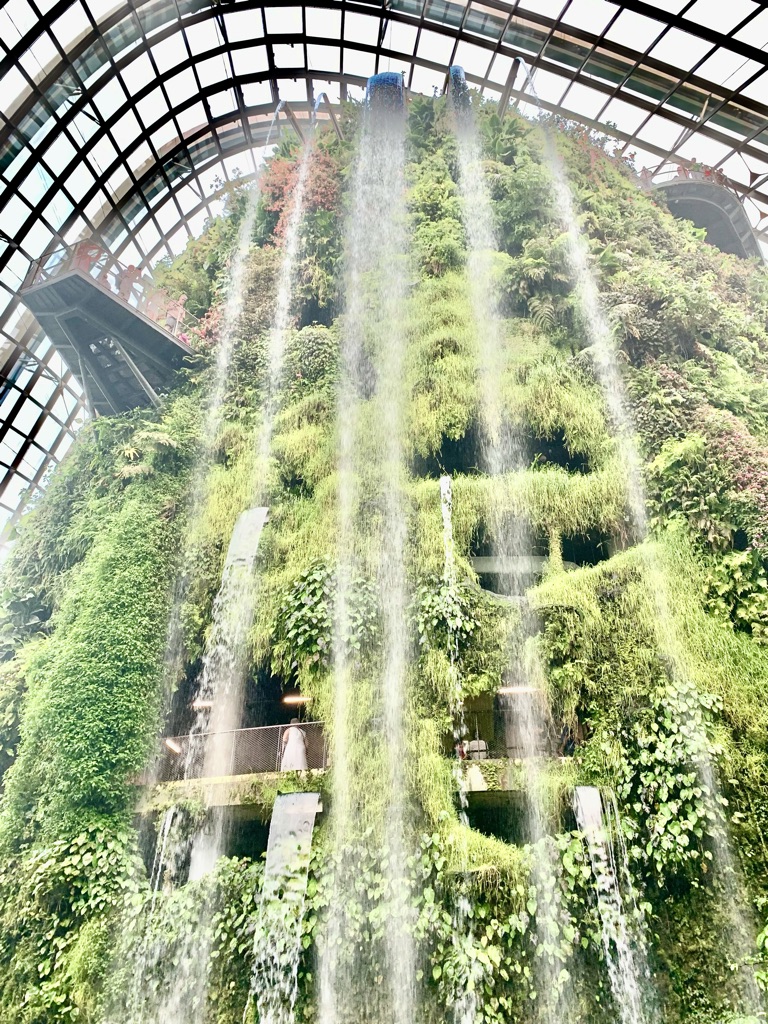 The Cloud Forest is one of the largest indoor waterfalls at 115 feet (35 meters) tall and has tons of plants, including Venus Flytraps.
My favorite part of Singapore was exploring the Supertree Grove during the day and again at night for the light show. The steel framed Supertrees stand at 164 feet (50 meters) tall with over 162,900 plants on them. There is a Skyway to walk 72 feet (22 meters) high among them.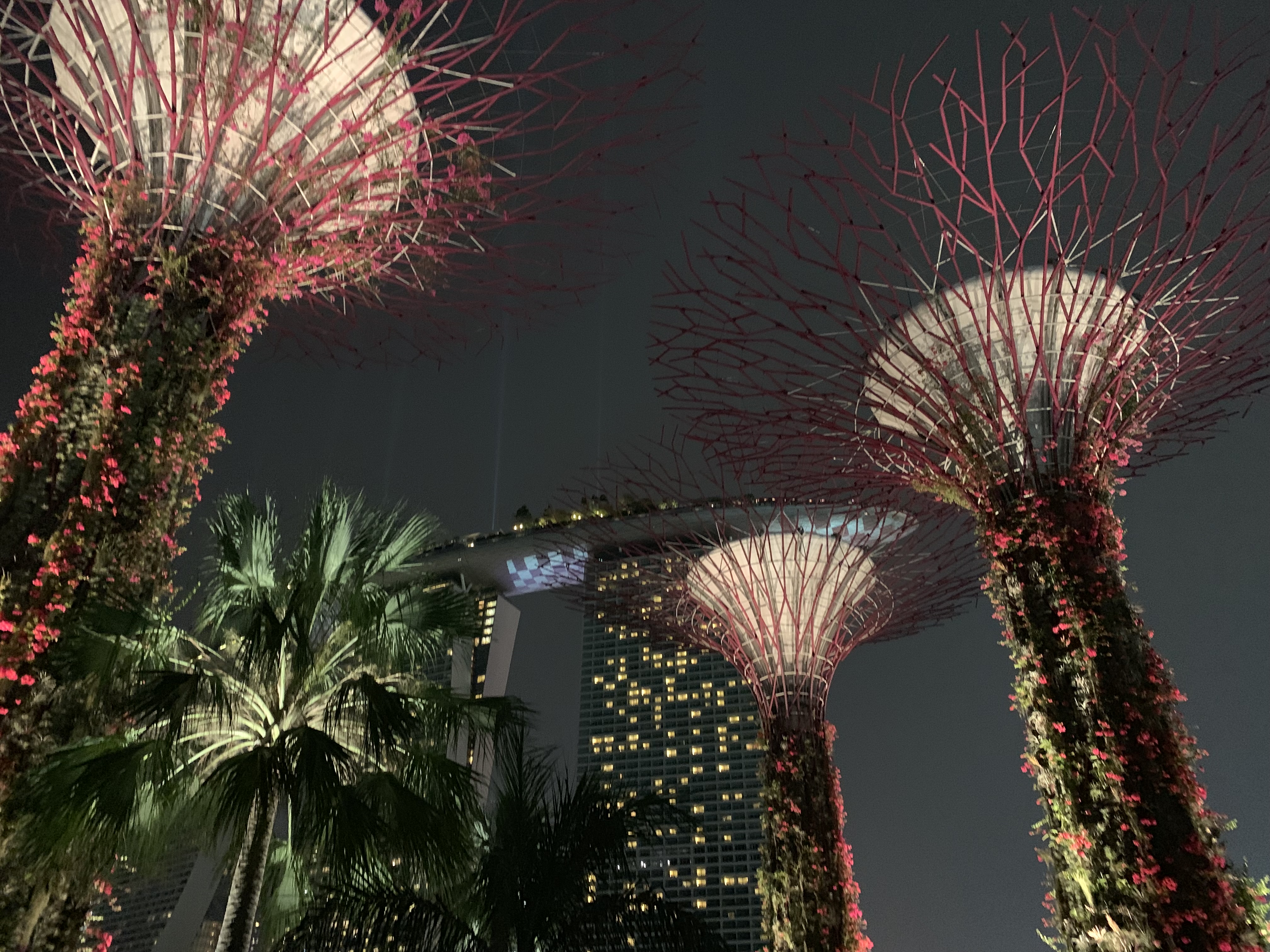 ---
(I like) Food
Singapore has more than one Michelin Star rated hawker or food stall. I was able to try 2 of them: Hawker Chan and Hill Street Tai Hwa Pork Noodle.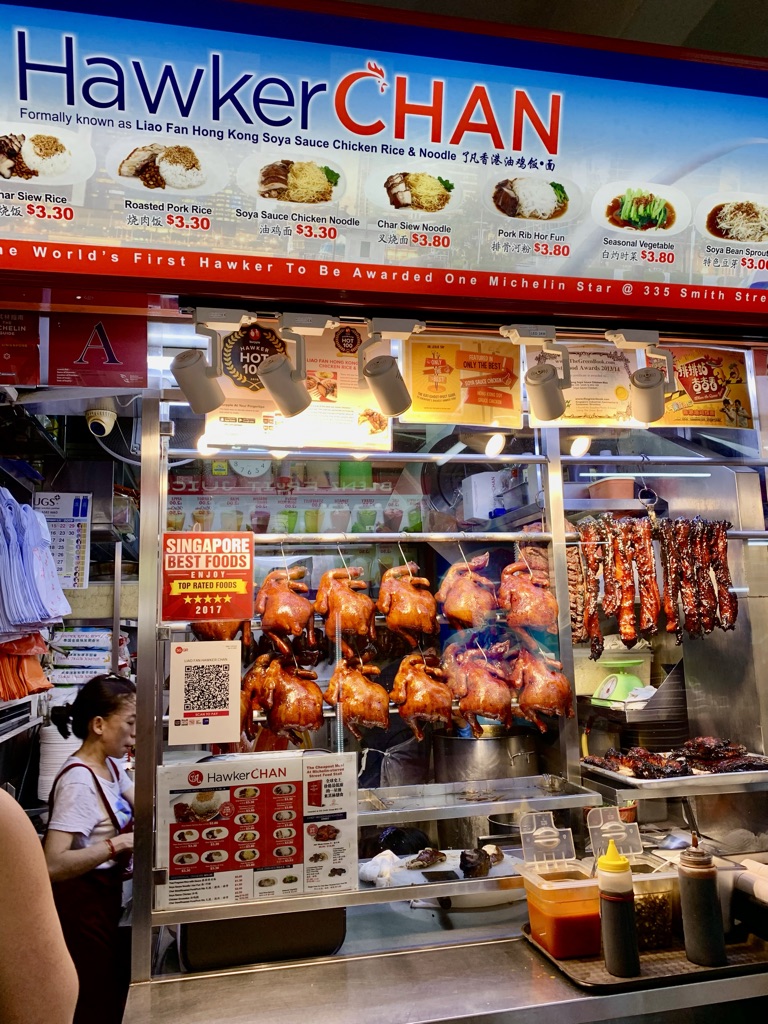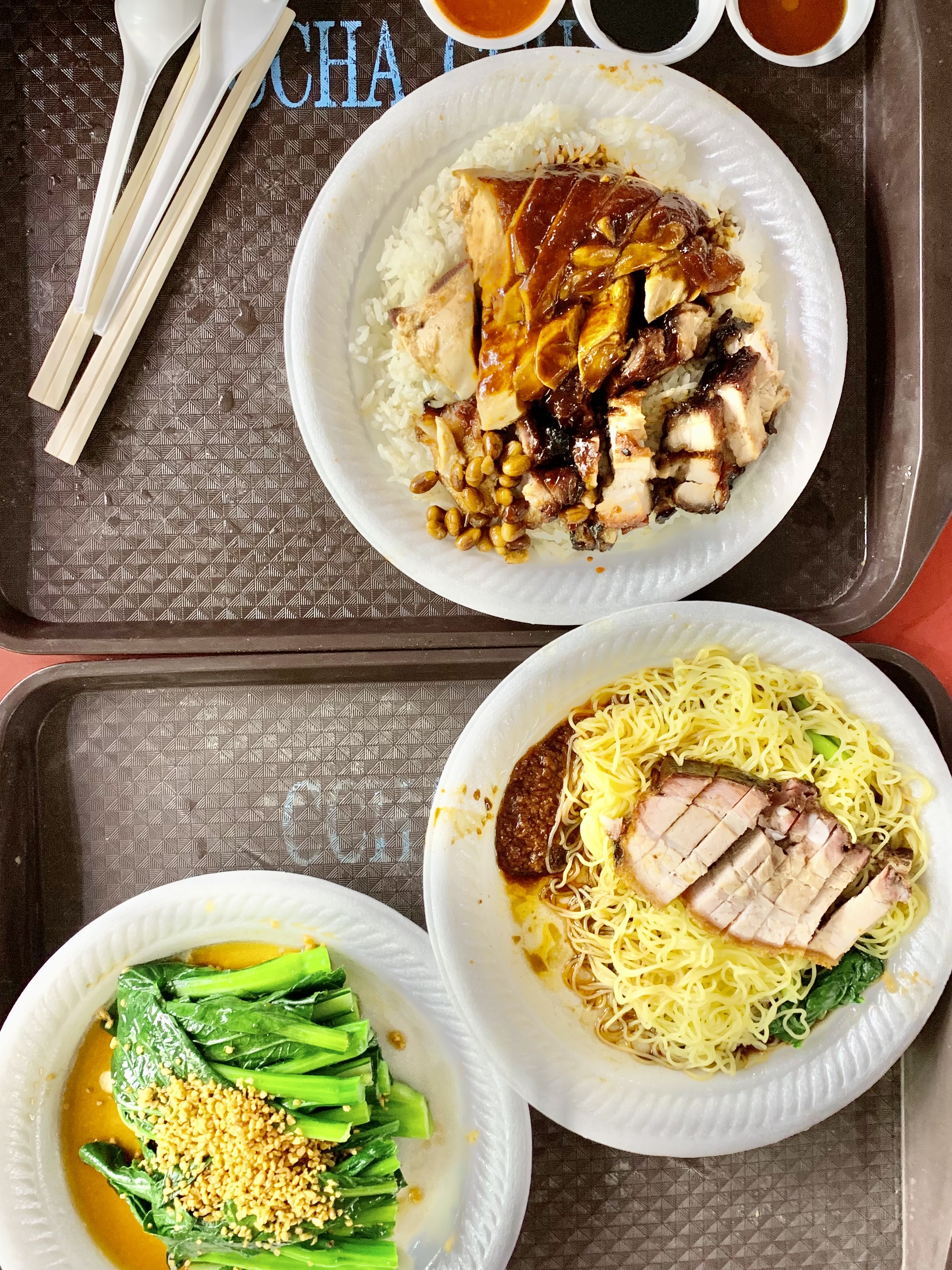 At Hawker Chan, for less than US$10 you can try three of their best dishes: Soya Chicken and Noodles, Char Siew Rice, and Bok Choi. While this menu is commonly served around the world, the depth of flavor will blow your car doors off! We waited 45 minutes (worth it) and ate in the non-airconditioned food hall (worth it). There is a newer location right outside the food hall, but it was a fun experience to try the original location.
They were awarded one Michelin Star in 2016, but recently lost the rating that some speculate because of expansion causing a change in quality. I still recommend trying it – the food was GREAT and inexpensive in a place that can be quite expensive to eat out.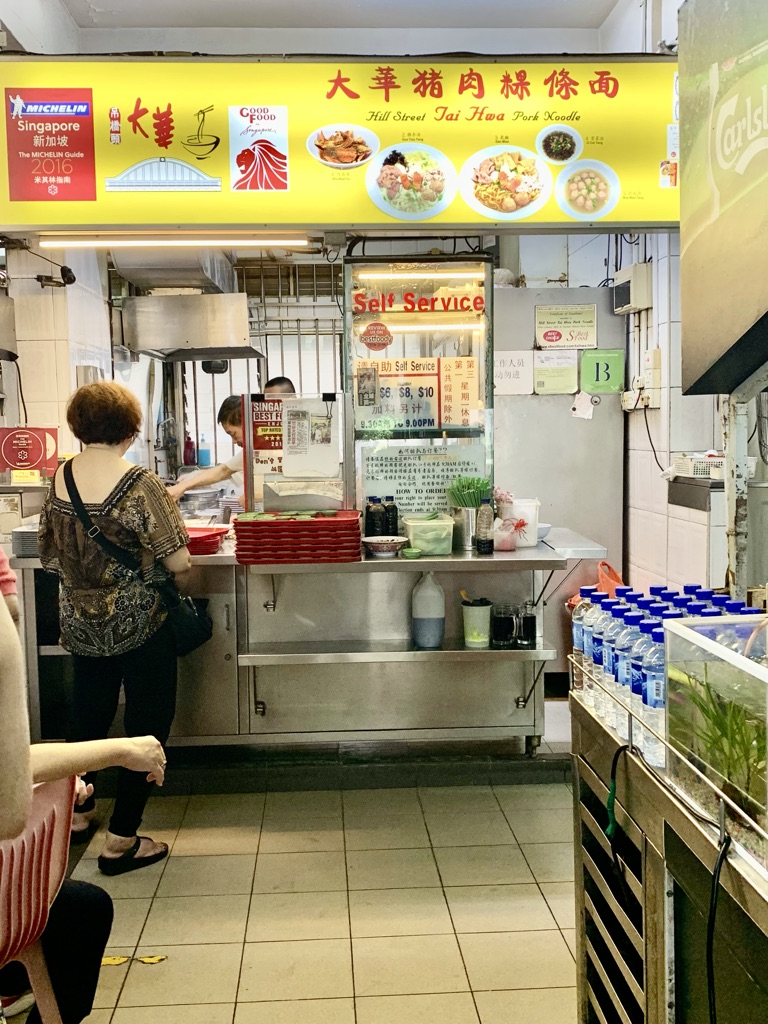 Hill Street Tai Hwa Pork Noodle, along with Hawker Chan, were the first two hawkers to get a Michelin star.
The specialty is a soup called bak chor mee (minced meat noodles). It's flavored with black vinegar and chili paste, among other things.
Verdict? It was very good, but not great. The ingredients are super fresh and you can definitely taste it. I would eat it again, but wouldn't wait in line for too long.
---
Merlion Park
The Merlion is an iconic symbol of Singapore. The half-fish, half-lion statue represents Singapore's origins as a fishing village and the city's original name of Singapura (lion city in Sanskrit). the Merlion statue stands at 28 feet (8.6 meters) and weighs about 154K pounds (70 tonnes).
The park has a jetty that is great for pictures of the Merlion and has cafes, restaurants, and shops surrounding it.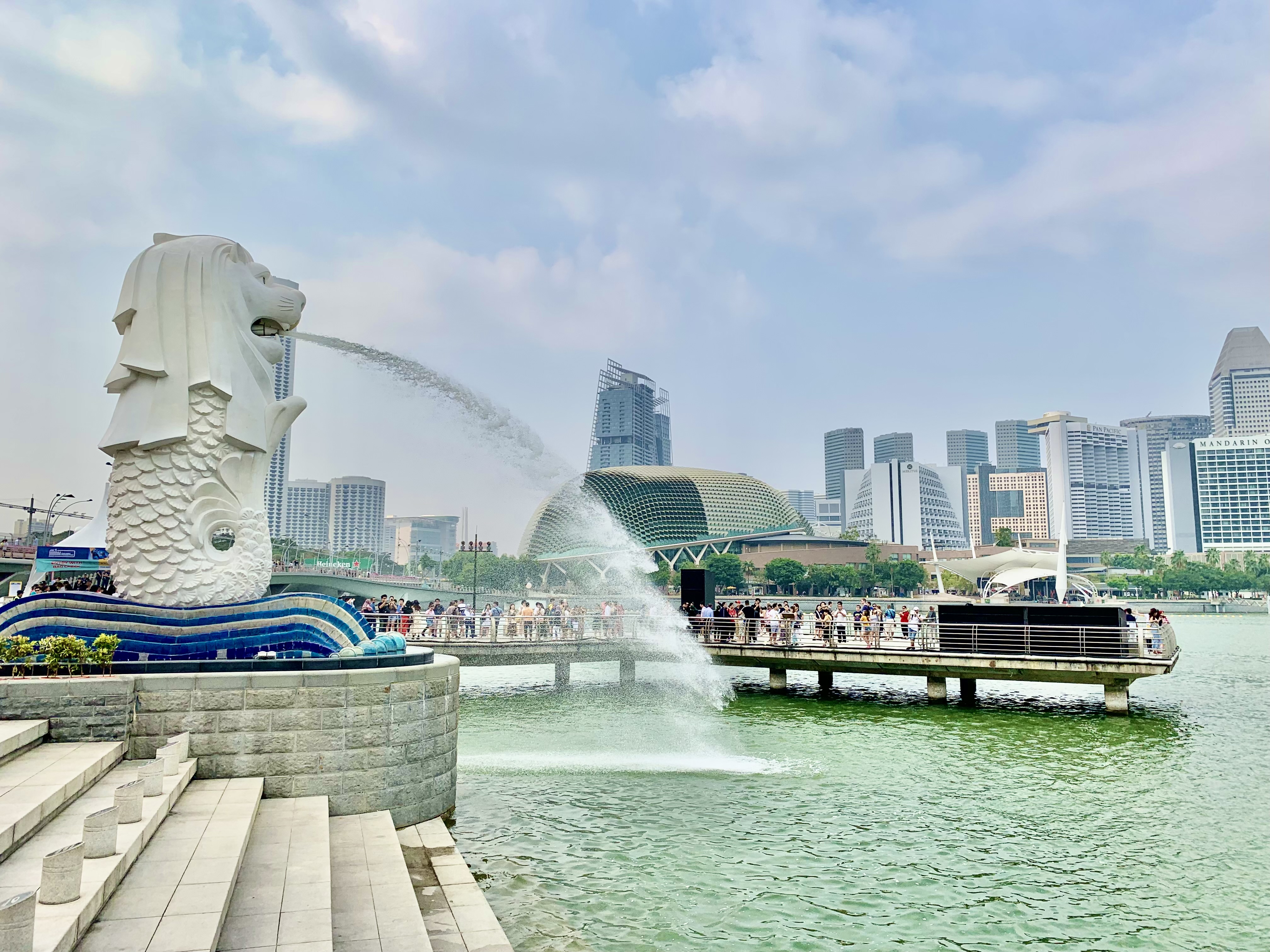 ---
Little India
One of the most colorful historical districts in Singapore is Little India. Serangoon Road is the main road to find eats and shopping, as well as the Sri Veeramakaliamman Temple with lots of colorful sculptures adorning the outside.
Explore the area to find murals, like "Traditional Trades of Little India" on Belilios Lane, painted by a local artist. Other interesting places in Little India are the Mahatma Gandhi Memorial Hall and Tekka Centre for fresh produce and local food.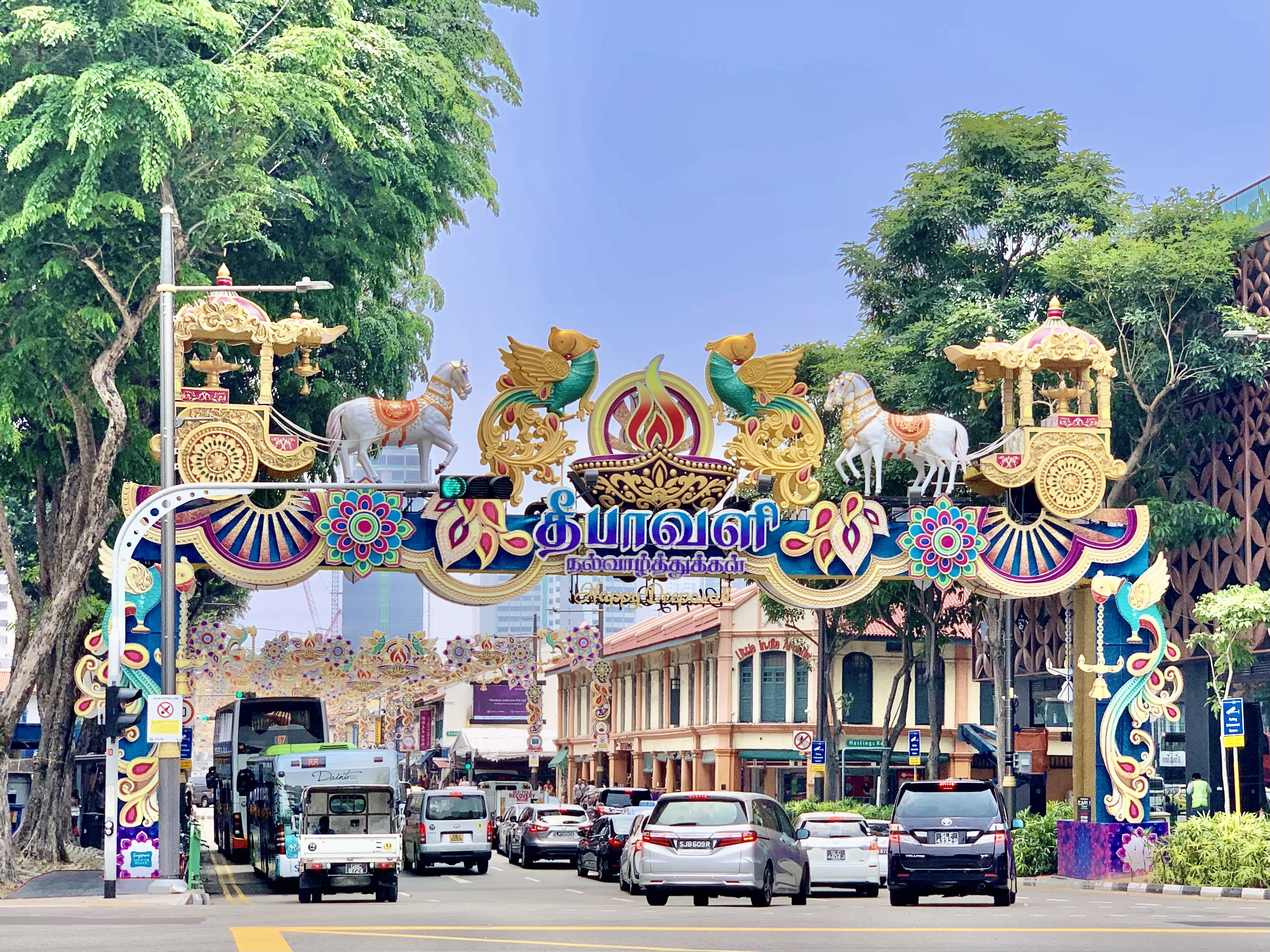 ---
Masjid Sultan (Sultan Mosque)
Masjid Sultan is the focal point for Singapore's Muslim community. The mosque was built in 1824 for Sultan Hussein Shah, the first sultan of Singapore. It's located in the center of Kampong Glam – Singapore's 'Arabic Quarter'.
You can't miss its giant golden domes! Masjid Sultan can hold 5,000 worshippers in the main prayer hall.