Although the pandemic momentarily put a halt to traveling activities worldwide, travel is opening up again – locally and globally. While traveling can be a lot of fun, the lack of some important things can make it stressful and chaotic.
One of these things is luggage. Whether you're traveling for work, need, or leisure, it's important to have the right luggage to make life easy for you during the trip.
There are some things you need to consider before going out there to buy your first luggage or even replacing your old one. This guide will discuss the factors you need to keep in mind when buying luggage.
Plus, we'll explain which standard dimensions and sizes are accepted as a carry-on by airlines. Keep in mind that no set features make a luggage "good." A bag that's perfect for you may not suit someone else.
At the end of the day, it comes down to your needs and preferences.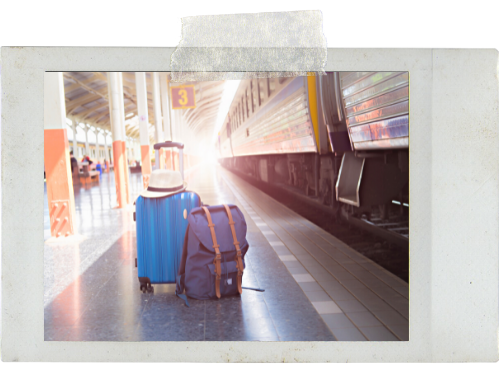 Decide Your Needs
First and foremost, decide why you need the luggage and the kind of travel you're embarking upon. Make sure you answer the following questions:
✈︎ How Do You Travel?
The rules and regulations for taking luggage along are different for air travel, cruises, and road travel. If you travel by road, you should ensure that the bag fits in the trunk or the backseat. Meanwhile, keep the storage constraints in mind if you're tailgating on an RV. For air travel, follow the guidelines mentioned by the airline. Similarly, if you're traveling by ship, follow the luggage limit specified by the cruise line.
✈︎ How Long Will You Travel?
Ideally, you should consider luggage that's travel-friendly and durable. Carry versatile luggage if you're planning to take short trips throughout the year or long trips occasionally. If you plan on walking a lot during your trip and want to keep your necessities with you, make sure you invest in a portable bag that doesn't break your back and shoulders.
✈︎ How Will You Store the Luggage?
Your destination will determine the answer to this question. If you are staying in a hotel, you'll probably have ample storage space. But if you're a guest at someone's place, you must consider the storage constraints. Hard-sided bags are the hardest to store since you can't squeeze them into a tight space. On the other hand, soft-sided bags are more forgiving.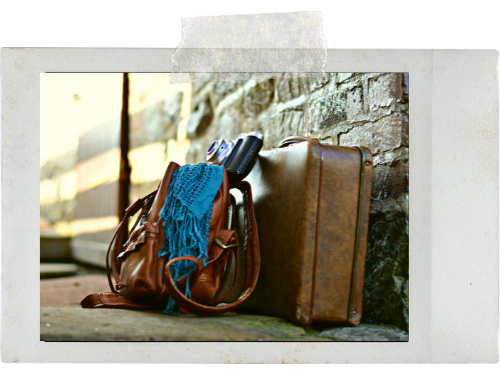 Select the Type
The second important consideration is the type of luggage you need. Will it be wheels, backpacks, duffel bags, or something else? Once you've answered the questions mentioned above, you'll have an easier time choosing the type of luggage you need.
Personal Item Bag
A personal item bag must fit under the seat in front of you on the plane. Personal item bags include laptop bags, small backpacks, tote bags, camera bags, and briefcases.
Often, these bags have small compartments for your phone, wallet, pen, passport, and other small accessories. They may also have padded sections for overnight essentials and toiletries.
All airlines have different guidelines for the size limitations on personal item bags. For instance, American Airlines only allows personal item bags with the dimensions 18 x 14 x 8 inches (45 x 35 x 20 cm), including handles and wheels. United Airlines only allows 17 x 10 x 9 inches (43 x 25 x 22 cm), so you should check your airline's website to be sure.
Carry-On Bag
A carry-on bag is the most convenient luggage to buy since it's allowed as cabin baggage on airlines. It can be a backpack, rolling luggage, duffel bag, or hard-sided case.
The dimensions of carry-on bags depend on the airline you're flying with. This is because different airlines have different rules and restrictions regarding carry-on luggage.
For instance, American Airlines has the following regulations regarding the size and weight of carry-on bags:
The size of the carry-on bag should not be more than 22 x 14 x 9 inches / 56 x 36 x 23 centimeters (including handles and wheels).
It must fit under the seat or the overhead cabin. If it doesn't, the bag has to be checked.
You can also take soft-sided garment bags with the dimensions 51 inches / 130 cm (length + width + height) as a carry-on bag.
Meanwhile, for Delta Airlines, the combined length, width, and height of your carry-on bag should not be more than 45 linear inches or 114cm. The individual measurements should not be more than 22″ x 14″ x 9″ (56 cm x 35 cm x 23 cm).
Keep in mind that the measurements include wheels and handles. Before you buy a carry-on bag, make sure it fits the guidelines of the airline you're traveling with and confirm the bag's dimensions in the product specifications. Some bags are marketed as meeting the "standard" measurements, but it may not be clear which airlines it is basing its information on.
---
Pros of traveling with a carry-on bag
✈︎ Keep Valuables Safe: You can keep your valuables, like laptops and cameras, safe inside the carry-on bag since it's usually with you at all times. Keep in mind that not all airlines allow items like laptops and cameras in checked bags due to the hazard of breaking. These things are safer inside a carry-on bag.
✈︎ Allows for agility: Traveling with just a carry-on makes using multiple modes of transportation easier. You are not lugging a big bag while navigating directions and space to put your bag. Moving from one train to another, or from car to boat to shuttle is less work to handle and store your bag during transport.
It is particularly helpful to travel with just a carry-on if you have to go directly to a meeting or event as soon as you land.
✈︎ Easier for short trips: If you can fit everything you need for a trip in a carry-on, then there is no need to bring a bigger bag than necessary! Packing and unpacking are easier with a carry-on bag, so you aren't searching through so much stuff. A carry-on should be your ideal pick if you're traveling for a day or two to attend a meeting or doing a weekend getaway.
✈︎ No Baggage Delays: You can reach your destination faster with a carry-on since it doesn't have to be checked in. Thus, you don't need to wait for it to be unloaded from the plane. With a carry-on, you can go straight to transportation out of the airport and be on your way.
---
Cons of traveling with a carry-on bag
Although a carry-on bag makes life easier, it has some shortcomings too:
✈︎ Tiring to Carry: Carrying all your belongings can be exhausting. Even something as light as a carry-on bag can be tiring if you need to walk for an extended period of time or climb stairs often. In some airports, regardless of how large, there may not be escalators leading to your gate. Also, you may need to be shuttled to the foot of your aircraft and board using stairs.
✈︎ Items May Get Lost: To protect against theft, items in your checked bags are usually covered by insurance. But this isn't the case with your carry-on bags. If something is stolen or you forget your bag somewhere, you'll have little to no luck getting it back. Many times we don't put a luggage tag on carry-ons thinking it will always be with us, but it's a good idea to tag it just in case!
✈︎ 3-1-1 Rule: If you're traveling from or within the US, you need to follow the 3-1-1 rule, which states that you can only carry 3.4-ounce bottles or smaller, 1 quart-sized bag, 1 bag per passenger. Every passenger can only carry one quart-size bag of aerosols, gels, or liquids. The common items that this rule applies to include shampoo, lotion, mouthwash, toothpaste, and conditioner.
It can be hard to comply with this rule if you want to carry skincare and toiletries for shorter travels. You can consider buying solid forms, for example, shampoo bars, toothpaste tabs and sunscreen sticks that can be kept out of TSA scrutiny.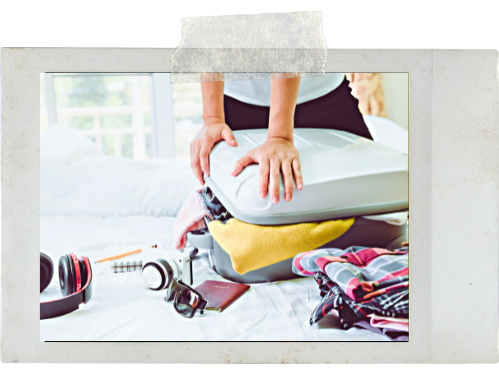 Checked Luggage
Bags larger than carry-ons have to be checked. Their size commonly ranges from 24 to 30 inches in height, but the dimensions differ among airlines. Larger bags can carry anything from your clothes to personal items that you don't need during the flight.
The maximum weight for checked luggage is usually 50 pounds, but some airlines allow heavier bags. As for the size, the common allowed dimensions are 27″ x 21″ x 14″ or 62 linear inches.
If you're uncertain, check the luggage guidelines on the airline's website.
Airlines charge extra fees for checked bags that exceed their weight limit. Plus, if you need to carry more than one bag, you have to pay a fee for it. Carrying a travel luggage scale, can reduce stress and surprises at the airport.
---
You should choose checked luggage if:
✈︎ You Travel Full-Time or Going on a Longer Trip:
People who're always on the go need to take more things along, essentially living out of a suitcase.
You can reduce the amount of clothes you pack by doing laundry on the road. Packing laundry detergent sheets are less expensive than buying a single liquid pack and take up little space in your bag.
✈︎ You Need Options:
There's no shame in needing options, so if after trying to whittle down what to bring and you still have a lot of stuff to pack, use the size luggage that meets your needs.
It might be a multi-destination situation as well, where you are visiting different climates or arriving for various events that require specific clothes and shoes.
✈︎ You Plan to Shop:
If you're going on a vacation and want to shop or buy souvenirs from the destination, you should have enough space for it in your luggage. In this case, checked luggage is better than a carry-on. Put anything valuable or sentimental in your personal item or carry-on bag so it stays close to you.
---
Pros of Checked Luggage:
✈︎ Peace of Mind: You don't have to worry about carrying your luggage, especially when it exceeds the weight limit for carry-ons.
A large number of airlines allow you to check in two or three bags. People with disabilities are allowed more than one bag without paying an extra fee. If your luggage is lost while traveling, the airline pays for damages incurred because of it.
✈︎ Extra Packing Space: You have more space in your bag for souvenirs or purchases you pick up during your trip. You can pack bulky items like sweaters, jackets, and boots. Somehow worn clothes get "fluffier" on the way back, so you don't have to spend time rolling or shoving everything back to make it fit the way when originally packed.
✈︎ Ease of Movement: Unlike with a carry-on, you won't have to take your luggage with you at all times. It gives you ease of movement, especially if there's a long layover and you don't want to tug your luggage along.
---
Cons of Checked Luggage:
✈︎ Luggage Delays: You have to wait for your bag when you get to your destination, which can be annoying if you're in a hurry. If the airline loses the bag, it's up to them to find it and compensate you accordingly. But you'll have to wait for anywhere from days to weeks to get your belongings back and go through the hassle.
✈︎ Cost: You have to pay extra fees for a checked bag. Many major airlines charge $25+ for the first bag and $35+ for the second one in the US alone. Others have higher weight limits and charge more.
✈︎ Layover Issues: Some airlines move checked baggage during layovers, but others don't. When you arrive at the airport, you must check in your bags, collect them at the layover destination, recheck them again, and finally, collect them once again when you reach your destination. It can be quite time-consuming and tedious, not to mention stressful when trying to make your next flight.
---
Checked Luggage vs. Carry-On Bags Comparison Table
Here's a comparison table to help you decide easily.
| | | |
| --- | --- | --- |
| Features | Carry-On Luggage | Checked Luggage |
| Things Carried | Preferably things you need during the flight, valuables, necessities in case checked luggage is delayed | Everything you need after landing only. Allows for full-size toiletries. |
| Size | Small (as per airline guidelines) | Large |
| Place | In the overhead cabin or under the seat | The cargo hold of the airplane |
| Cost | Typically free except for low-cost carriers, such as Frontier and Spirit | Typically free for one bag and $30 or above for more, except for low-cost carriers |
| Restrictions | Strict limits on carrying liquids. Lithium battery power packs are allowed. | No limits on liquids. Lithium battery power packs are not allowed. |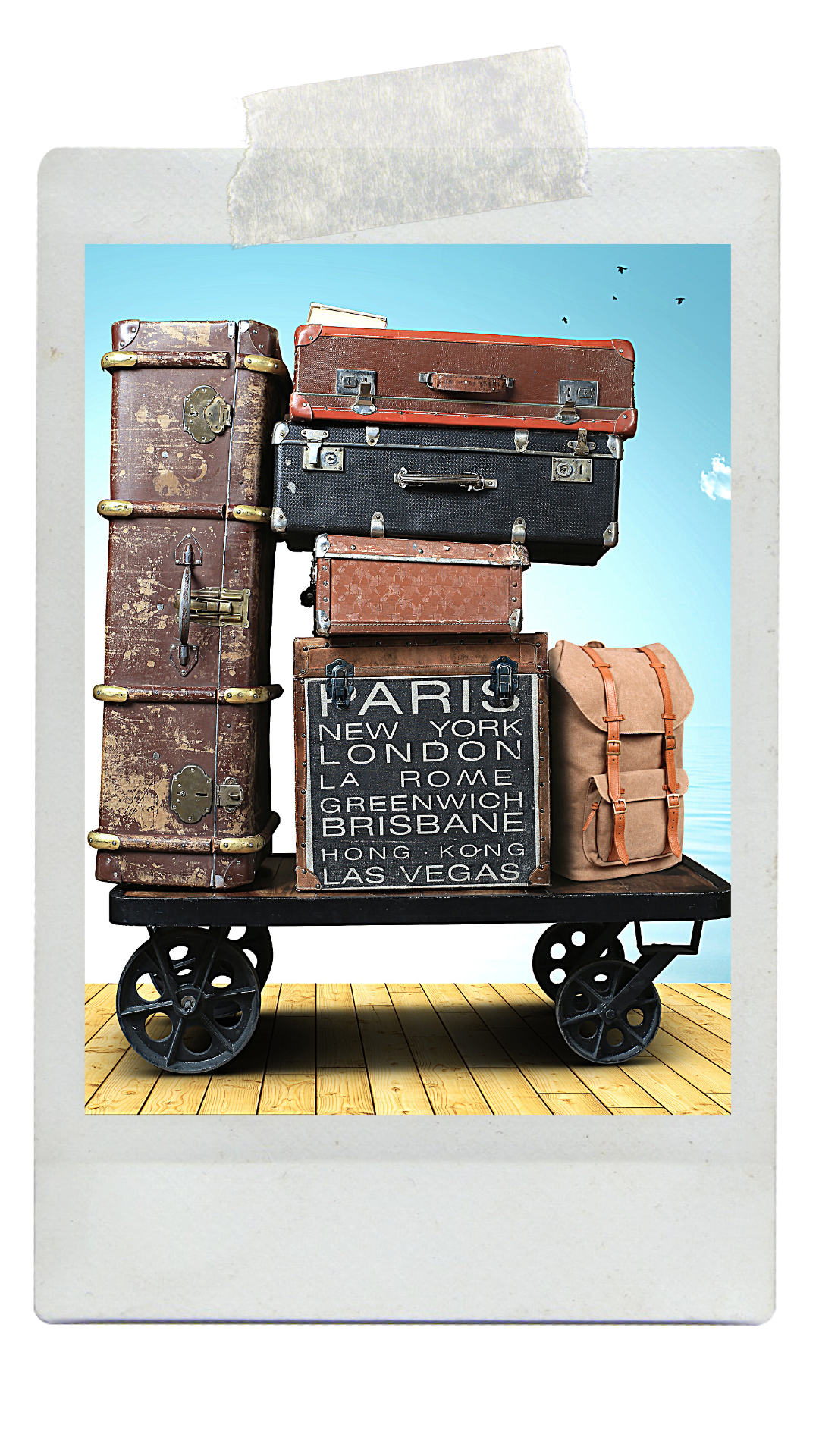 Hard-Sided or Soft-Sided?
When selecting the right luggage for travel, it's also important to decide between hard-sided and soft-sided bags.
Hard-Sided Luggage
Hard-sided or hard-shell luggage is made of a thick, strong plastic that will keep its shape and is less likely to get crushed under the weight of other luggage.
Hard-shell luggage also offers more protection from theft as it's harder to cut through. In addition, the exterior is scratch-resistant and easy to clean. Most of these bags have a 50/50 opening, allowing you to divide the interior into two sections. Some also have a middle divider or an X-strap to keep your clothes and belongings securely in place.
A useful feature is the ability to expand an inch or two since it doesn't have 'give' like soft-sided luggage.
---
Pros of hard-sided luggage include:
✈︎ Keep Breakable Contents Secure: If your luggage contains breakable or fragile items, the extra protection of a hard-sided luggage bag might be necessary.
✈︎ Strong: The thicker plastic shells provide good protection for your belongings from outside forces, including being thrown in a pile of luggage and weather.
---
Cons of hard-sided luggage include:
✈︎ Weight: They are not as lightweight as soft-sided bags, so they might take up more space in your car or on public transportation. However, some newer models are made with lighter materials to help offset this disadvantage.
✈︎ Cost: They tend to be more expensive than soft-sided luggage.
✈︎ Space: Since the hard-sided bags have a firm exterior, you cannot squeeze them into a tight storage space. They also do not have exterior pockets for books, magazines or a tablet.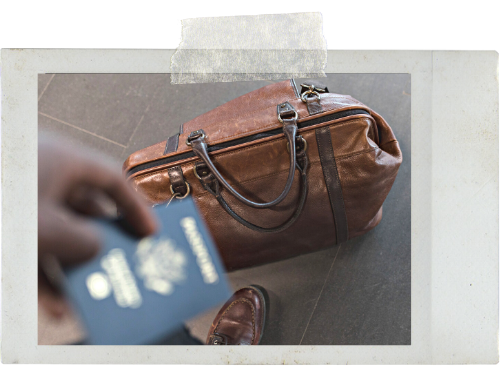 Soft-Sided Luggage
Soft-sided luggage is typically made of nylon or other fabric and is usually lightweight. These bags have outer pockets as well as spacious interiors. Some soft-sided bags also have padded pockets to keep your laptop or tablet.
Since most soft-sided bags have shoulder straps, they're easy to carry around and make perfect carry-on luggage.
---
Pros of soft-sided luggage include:
✈︎ Size: Most soft-sided bags have a flexible exterior, which allows you to store them in limited spaces or push them into an overhead bin. They might even fit under the seat of an airplane, depending on the size.
✈︎ Weight: Soft bags are often lightweight, especially the fabric models. If you plan to carry your bag throughout the trip, it's best to hold a soft-sided bag rather than tug a larger hard-shell bag along.
✈︎ Price: They tend to be cheaper than hard-sided luggage. This might make them a good option for people who travel on a budget.
---
Cons of soft-sided luggage:
✈︎ Not Protective: Soft-sided bags are not as protective as hard-sided luggage. If you pack breakable items in a soft bag, they could get crushed during transit.
✈︎ Unsafe for Valuables: Since these bags don't have locks, it's also easier for thieves to steal your valuables. Also, the exterior pockets are exposed to everyone, increasing the risk of theft.
✈︎ Not Weather-Proof: Most soft-sided bags are not waterproof, which means rain can seep through the fabric, damaging your belongings inside. Some high-end bags are made of water-resistant materials, but they're on the pricier side.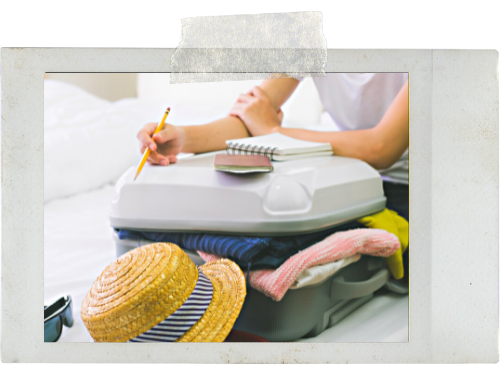 Wheels or No Wheels?
Are wheeled bags better than no-wheels ones? Or is it the other way round? The debate has been going on for too long. The only right answer is that the "better choice" of the two depends on your personal needs.
Luggage with Wheels
While some bags have two wheels, others have four wheels. Both versions have several advantages and shortcomings.
Two-wheel Luggage
Two-wheel luggage has been known since the early days of travel. The first bags with two wheels were big and bulky and had a major shortcoming – they were nearly impossible to carry on stairs or over curbs.
Today, you can find a wide range of two-wheel bags. They have certain pros:
✈︎ Since they're recessed, the wheels don't snap off if they're handled roughly.
✈︎ Two-wheel luggage is better for city trips since they easily roll on uneven surfaces like cobblestones and sidewalks.
However, these bags also have some limitations:
✈︎ Carrying them can lead to wrist or shoulder pain.
✈︎ It's cumbersome to drag a two-wheel bag in crowded places as you need to make space for the bag.
✈︎ The recessed wheels take up space in the bag's interior, making you compromise on the space available for packing your belongings.
---
Four-wheel Luggage
Four-wheel bags are also called spinners because their wheels can spin 360 degrees. You can turn these bags in any direction or even push them in front of you.
They are beneficial for some travels because:
✈︎ These bags are easy to navigate in tight spaces.
✈︎ Four wheels make the bag more stable and take the load off your wrist.
✈︎ Four-wheel bags don't put any stress on the carrier's shoulder.
However, they also have some disadvantages:
✈︎ Since the wheels are not recessed and are rather mounted, they're prone to snapping off if not handled with care.
✈︎ The mounted wheels take up quite some space in the overhead compartments, making the bags unfit for use as carry-ons.
✈︎ You have to hold the four-wheelers on inclines as they don't stay stationary otherwise.
Luggage Without Wheels
If you don't want to carry a large bag, no-wheel luggage is the best choice for you. You should also opt for luggage without wheels in the following situations:
✈︎ Ensure Maximum Storage Space: The handles and wheels of wheeled luggage can take up a lot of space in whatever means of transportation you're using. On the other hand, no-wheel luggage can squeeze in tight storage spaces. Plus, you get the maximum interior volume to keep your belongings as no wheels are resting on the bag's interior.
✈︎ Travel on Uneven Surfaces: If you plan to take the bag on uneven surfaces, such as cobblestones, ice, or sand, you should opt for luggage without wheels. Wheels will either break on these surfaces or make it a pain to manage the bag.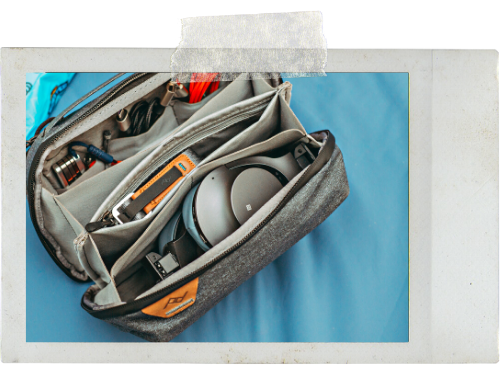 Other Features
Apart from these significant features, there are some other considerations you can base your choice on. Let's look at them in detail.
✈︎ Security
If you're traveling with valuable equipment or items, your luggage should have locks that are TSA-approved. This way, you can be sure that your luggage was inspected only by authorized personnel who have gone through proper security checks.
TSA locks are preferable because they allow inspectors to open them without breaking the locks or your luggage. Only the TSA has the key's copy. They can check the contents of your bag without causing any damage to it.
Material
The material is another thing that may influence your choice. For example, suitcases made of hard materials like metal, polycarbonate, fiberglass, ABS plastic are more resistant to outside elements.
They're also easier to clean. However, this comes at the cost of weight.
On the other hand, suitcases made of soft materials are slightly less durable but lighter and more flexible. Newer technologies have increased the durability of suitcases made of soft materials, so this might not be a major consideration.
Here are some common materials used in making luggage:
ABS: Acrylonitrile Butadiene Styrene or ABS is a mixture of polymers typically used to make various plastic products. It's the most widely used material for hard-sided bags due to its strength, durability, and scratch resistance.
PVC: Polyvinyl Chloride or PVC is a type of plastic used in many tools and construction materials. It's also a common material for many types of luggage because it's lightweight, inexpensive, and resistant to moisture and wear.
Nylon: Nylon is a type of plastic used in many different products, such as parachutes and ropes. It's commonly used to make backpacks and duffels. It's made from synthetic fibers and easily sheds water.
Polyester: Polyester is another type of material that can be combined with other materials to create a strong, lightweight fabric. It's also water-resistant and can be easily cleaned with soap and water.
Polycarbonate: Polycarbonate is also used to make hard-sided bags. It's more impact-resistant as compared to polypropylene. It's also lighter than most other materials used for luggage.
Aluminum: Aluminum is a strong yet lightweight metal alloy. It has the highest strength to weight ratio of any metallic element, which makes it particularly useful for applications requiring high strength and low weight, such as making luggage. Aluminum bags are the most durable compared to all other materials used for hard-sided luggage.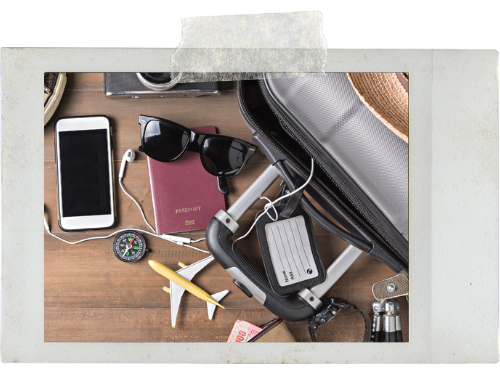 Handles and Wheels
Handles on bags are practical for carrying your luggage. So are shoulder straps, but they put more strain on your body.
If you're traveling by foot or using public transport, consider buying a bag with both of them. This way, you'll get the convenience of both options without sacrificing one for the other.
Minimalist travelers might want to go for bags with only shoulder straps. Likewise, bags with shoulder straps are ideal if you're going on shorter trips or plan to walk on uneven surfaces.
Meanwhile, if you want to carry a lot of items, it's best to keep them in a hard-shell bag with a top handle. Top handles tend to be telescopic, which means they can collapse for easier storage.
Wheels are another big convenience because they allow you to pull or push your bag without any effort. They also protect the bottom of your luggage from being damaged when it's dropped on the ground.
Some suitcases have four wheels, some have two, and others have none at all. Two-wheeled bags are more maneuverable. Meanwhile, bags with four wheels are sturdier and have better shock absorption.
At the same time, they're bulkier to carry around if you intend to walk long distances.
If you're carrying very heavy luggage, consider getting a bag with four wheels so that it can roll smoothly.
Expandability
Some bags have expandable panels, which means you can unzip the panel to make up to 10% extra space for your belongings. These bags are ideal for when you need to carry a lot of items.
These are not recommended for lightweight trips where you don't need so much space. Otherwise, you can end up with a bag that's uncomfortable to carry around.
Pockets
When buying luggage, make sure you check the number of pockets it has. These are helpful for keeping your belongings organized, which is important if you're traveling with a lot of equipment.
Make sure the pockets are easily accessible and have zippers or Velcro flaps that close securely to ensure that your things won't fall out accidentally.
These types of pockets are commonly found in luggage:
Main Pocket: The main compartment or pocket in a bag is the biggest space for storing your belongings. You can keep your clothes and other items here.
Laptop Pocket: The laptop pocket is often padded to provide additional protection for your laptop. If you're carrying a laptop, check that the pocket is deep enough to accommodate it.
Water Bottle Pocket: These pockets are perfect for holding water bottles and other cylindrical objects such as umbrellas. They are commonly found in soft-sided carry-on bags.
RFID Pocket:Radio-frequency identification (RFID) is a short-range wireless technology that allows you to wirelessly transfer information over distances. RFID blocking pockets keep your credit card and passport secure by preventing unauthorized access to the information contained in these cards. These pockets are not present in hard-sided luggage.
Zipper Pocket: It's a pocket with a full-length zipper for securely storing small but valuable objects such as passports, paper currency, and jewelry.
Cell Phone Pocket: It's a pocket that hangs or attaches to the bag in which you can store your cell phone. These pockets are found on the sides of bags, within compartments, or inside main pockets. These pockets will be sized to fit different models of cell phones.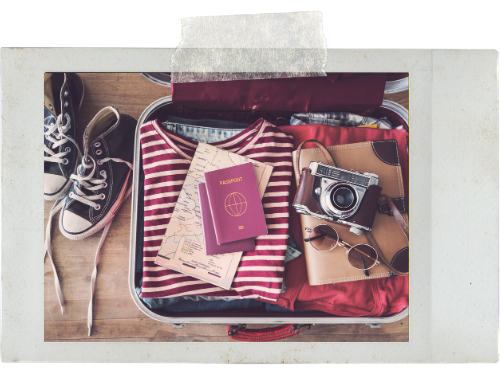 Tips for Buying Luggage
Now that you know about the features to consider during luggage shopping, here are some tips that can help you purchase the right bag.
✈︎ Make sure you buy luggage from a company that offers a warranty. If the bag you purchase does not hold up to your standards, then you want to know that it can be replaced or repaired relatively easily.
✈︎ While online shopping is becoming more popular, most luggage stores still have a showroom for their products. Before purchasing a product, take the time to see and feel the item. If you physically feel the material and examine the stitching on the bags, you are less likely to experience buyer's remorse after purchasing an item.
✈︎ If large suitcases are not what you're looking for, there are alternatives. Some luggage sets offer duffel bags, extra-large totes, or other options that can meet your needs.
✈︎ Be mindful of the weight of the bag. If the bag itself is too heavy, you'll have a hard time filling it with all you need to carry, keeping the airlines' weight restrictions in mind.
Adventure Awaits!
Choosing the right luggage for traveling can make your overall experience better and easier. It's worth the effort of ensure you get the right gear that fits your needs, so you don't have to think about it when you're making your way to your next adventure.
This luggage guide should have helped you make decisions on what luggage is right for you so you can get to the good stuff – exploring your destination.