Temples. The end.
When arriving in Bangkok, it looks like many international city centers. Cars making their way down busy streets, a buzz of people going about their daily life, and sounds of the train coming in for commuters. I arrived in the late afternoon so had time to freshen up before heading out to find some local eats.
I was looking forward to seeing other areas of Thailand, like Chiang Mai and A. So, I thought I was just passing through tbh. But, DANG. I was wrong! Bangkok brought it with the temples! I'd love to visit again, and would still only stay a couple of days – that is enough to make the rounds of some great food, hang out and revisit a trifecta of iconic temples you need to see to believe:
Wat Phracheatupon Vimonmungkraram, aka Wat Pho (Temple of the Reclining Buddha)
Wat Arun Ratchawararam Ratchaworamahawihan (The Temple of Dawn)
Wat Phra Si Rattana Satsadaram (Temple of the Emerald Buddha)
You can hit up these three temples in a few hours since they are within walking distance of each other and located in the heart of Bangkok. The Chao Praya, known as the River of Kings, is one of the most important waterways in Thailand and runs through Bangkok. There is a riverboat with great views to take you from Wat Pho to Wat Arun for about US$4 when I was there. If you have time, do a sunset dinner cruise for a unique look at the temples from the water.
Also, it's not too expensive to book a private tour guide so you can see Bangkok at your own pace and not have to deal with a tour group. Fun fact: Thailand has 26,000 wats (temples) across its land!
Thailand Temple Dress Code
Tip: When visiting any Wat in Thailand, especially royal temples that are more conservative, be sure to dress accordingly to follow local customs and show respect. You will need to remove your shoes, so slip-on sneakers or sandals are a good choice for easy on/off!
Women need to cover their shoulders and knees. A scarf may not be accepted since it has the potential to slip off, so bring a lightweight short sleeve shrug or light weight button-down to layer if needed. I carry a sarong when I travel for many reasons, and in this case, it's handy to use ask a midi skirt. Some places will let you rent what you need for cheap or at Bang-Pa (Summer Palace) I ended up buying an inexpensive skirt because it was so cute.
Men need to cover their knees as well, and crop pants or long shorts may not be accepted. In a pinch you can buy harem pants à la MC Hammer, from vendors hovering at the enterence waiting to help you make a fashion statement for US$3-5. Most of the rayon pants are some kind of loud elephant print (can't touch this!) that you can just wear over your shorts.
Wat Phracheatupon Vimonmungkraram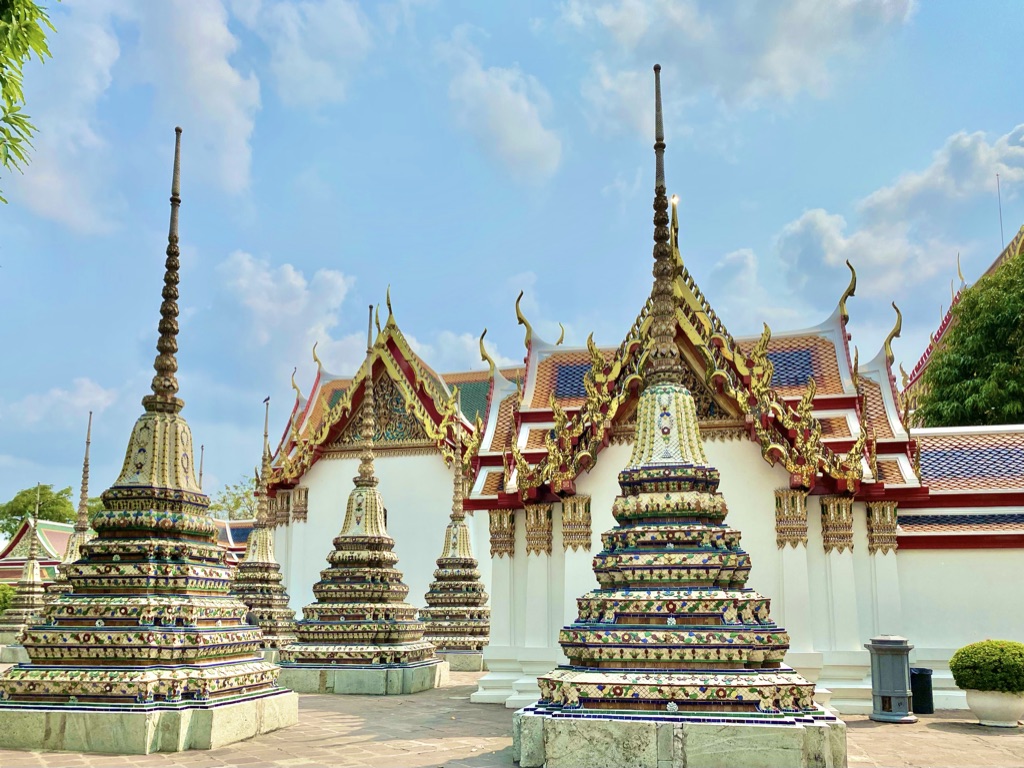 Wat Phracheatupon Vimonmungkraramwas, also known as Wat Pho, was the first public university in Thailand, specializing in religion, science, and literature. It is the birthplace of Thai massage! It's pretty cool to know this is where it was created.
Wat Pho has 394 Buddha images within the temple grounds, including the famous Reclining Buddha (more on that, below). That's the largest collection of Buddha images in Thailand! In addition, it's the oldest and biggest wat in Bangkok that spans 50 rai (80,000 square meters or about 861,000 square feet).
The intricate details found in almost every nook and cranny will blow your mind! The colorful mosaics that cover the pagodas get more interesting as you approach from afar. You begin to see the complex patterns and textures created by each piece making up the design.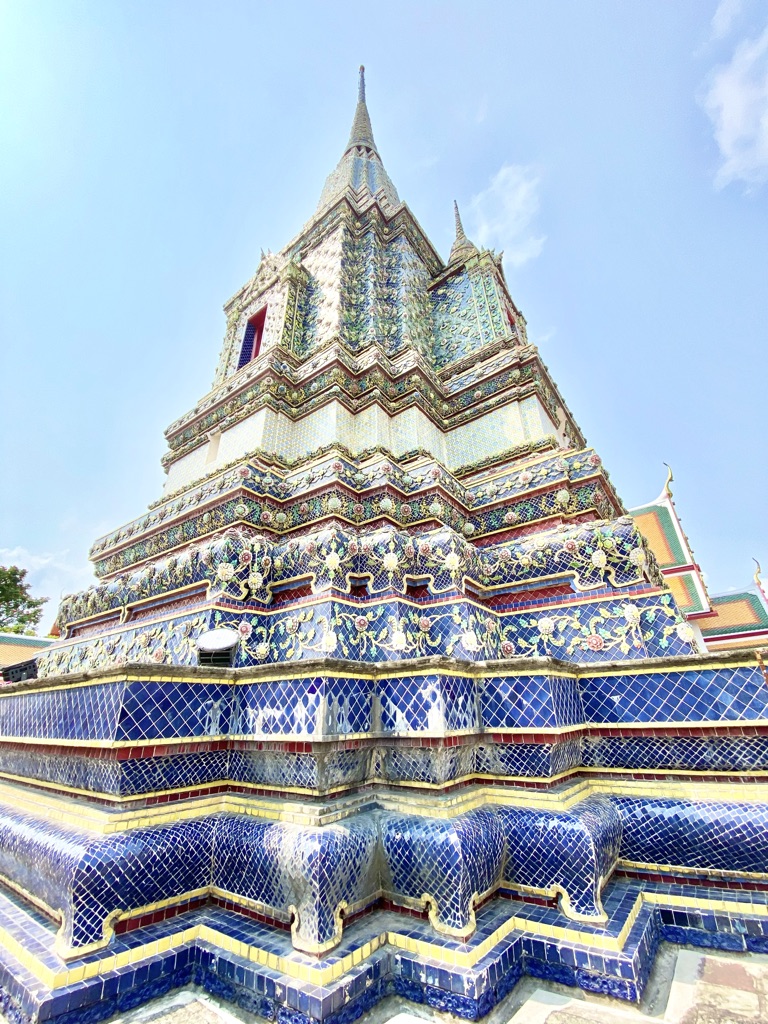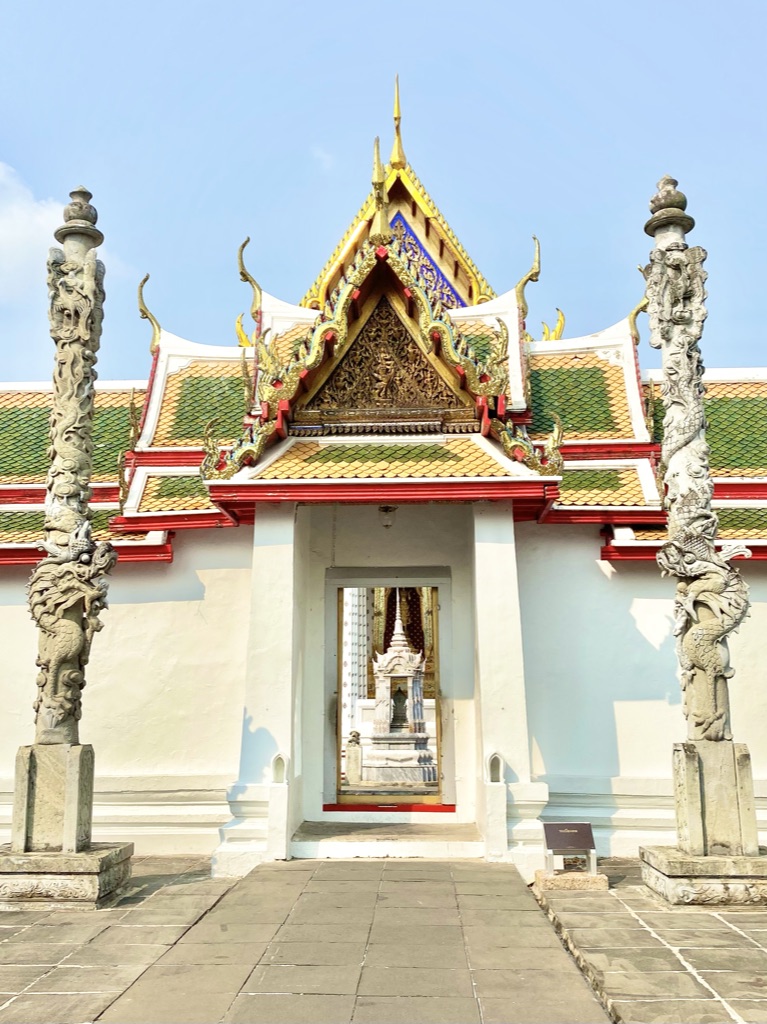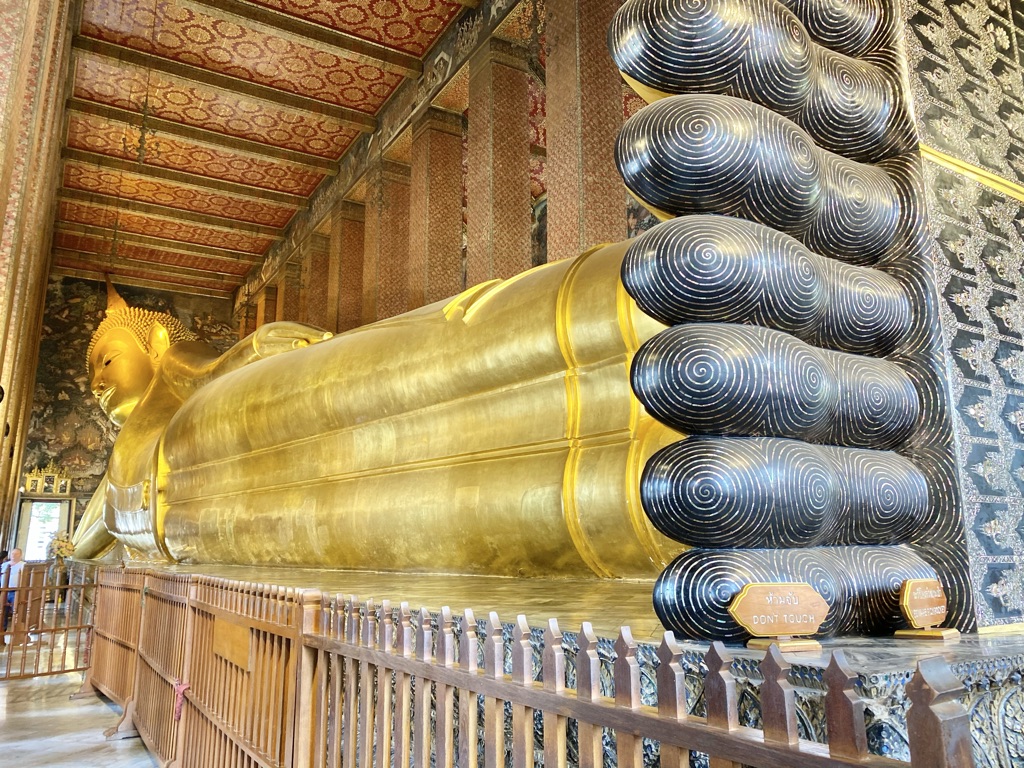 Wat Pho is home to the largest reclining Buddha in Bangkok at 150 feet (46 meters) long and 49 feet (15 meters) tall. The pavilion almost looks too unable to contain the statue! A common ritual is to donate some coins (representing alms) in a series of metal bowls placed in a long row behind as you turn the corner around the mother-of-pearl inlaid feet. PS – the feet are 16 feet (5 meters) long!
Buddha is said to have known that his death was approaching while in this reclining position. Because Buddha gained enlightenment in this lifetime, Buddha was able to escape samsara or the endless cycle of birth-death-rebirth and was able to enter Nirvana.
The serene and smiling expression of the Buddha in the statue portrays the compassion and calmness that comes with enlightenment. It should be viewed as encouragement that all beings have the potential to be awakened or enlightened and release themselves from the suffering which is characterized by the cycle of rebirth1.
Wat Arun Ratchawararam Ratchaworamahawihan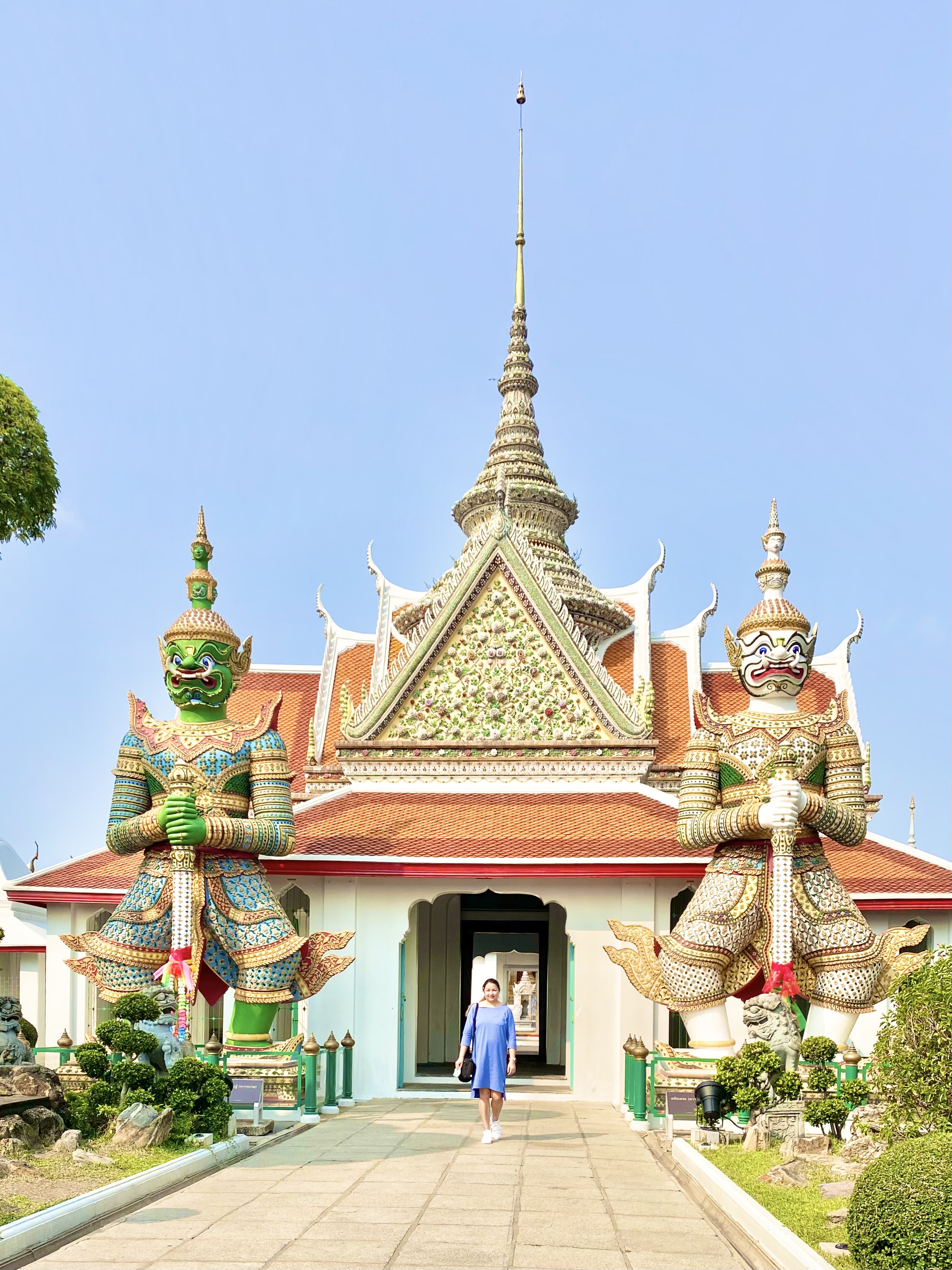 Wat Arun is known as the Temple of the Dawn and sits along Bangkok's famous Chao Phraya River. The temple is named after the Hindu god Aruna, often personified as the radiations of the rising sun.
The 270-foot temple is amazing any time, and not surprisingly, especially special at dawn or sunset! The temple is covered from top to bottom with Chinese porcelain mosaics.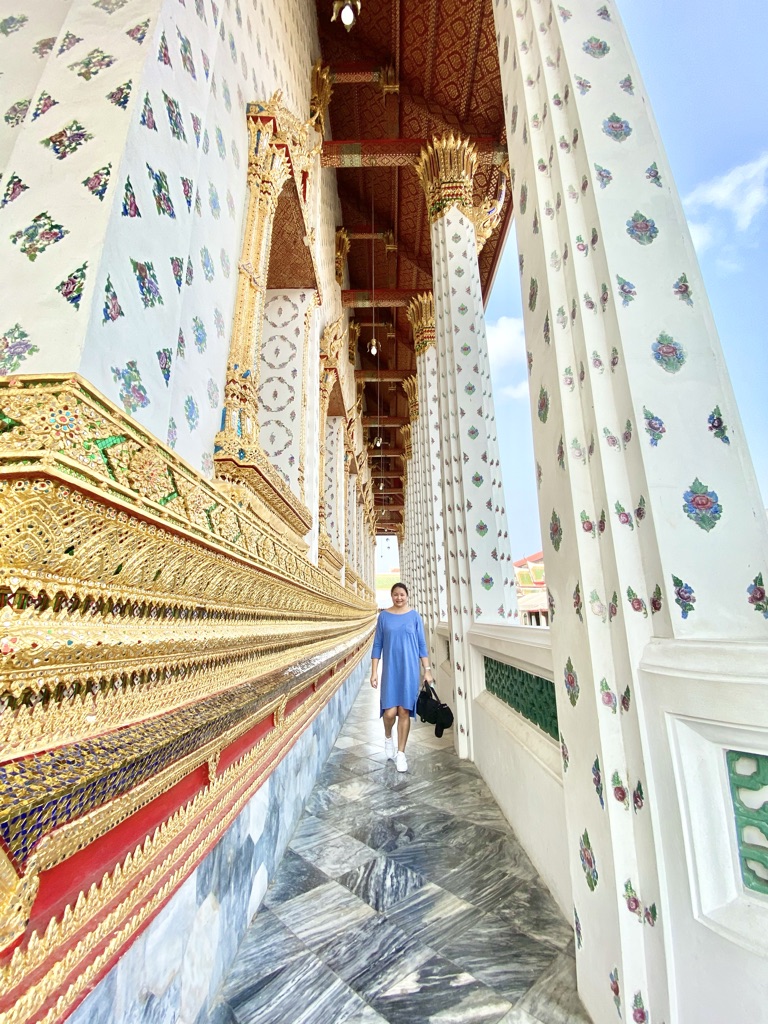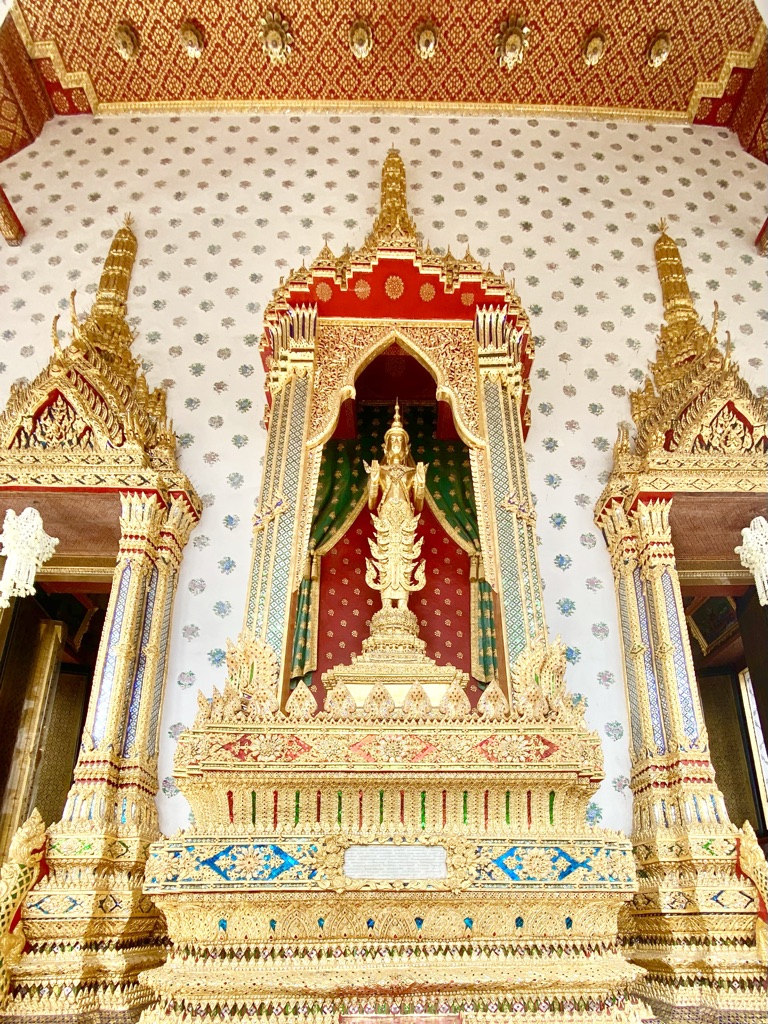 Wat Phra Si Rattana Satsadaram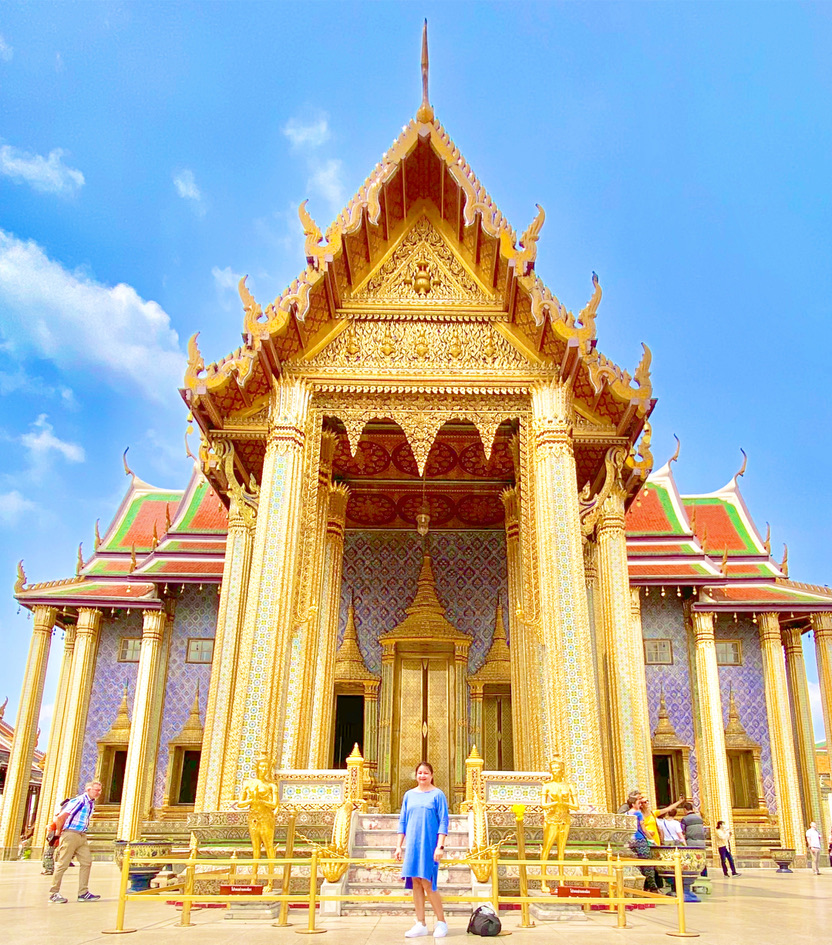 Wat Phra Si Rattana Satsadaram is also known as Wat Phra Kaew, still serves as the site of Buddhist religious rites undertaken by the king and the royal family of Thailand. This includes major events such as coronations and royal ordinations (ceremony for a King or Queen's divine right to rule).
This wat is named for the Emerald Buddha that is made from a single piece of jasper. Emerald refers to the color rather than the stone. It is 26 inches (66 centimeters) in height and is dressed in a gold costume that changes each season. It has been sitting in place since 1784 CE and people believe it provides protection and prosperity.
There are so many other temples and structures to see on the grounds, in addition to the Emerald Buddha, so take your time and lots of pics!
There's more to Bangkok than temples
The way I love me a good castle, the same can be said about temples. Magnificent. Every. Single. One.
But wait, there's more! There is a great energy and life running through the city with amazing food and people. Bangkok has shopping adventures, from night markets and the huge, weekend Chatuchak Market to Siam Paragon. A must is a Thai massage and other spa services… because you deserve it! A visit to Bangkok is a great experience, so spend a day or two before heading out to other cities in Thailand.
Bon Voyage!